Southwest Airlines made a profit in the first quarter thanks to federal payroll support payments, but says passenger demand remains "inconsistent by region" as the airline shuffles its fleet to meet fluctuating demand.
The Dallas-based carrier's chief executive Gary Kelly says on 22 April he is "relieved, enthused, grateful" for revenue and booking developments in past weeks.
Southwest turned a $116 million profit during the first three months of the year, making it the first major US airline to report a quarterly profit in more than one year.
The results, however, reflect a $1.2 billion cash injection from the US government's payroll support programme. Airlines must use those funds to pay staff salaries, wages and benefits.
Excluding federal aid and other items, Southwest would have lost $1 billion in the quarter, it says.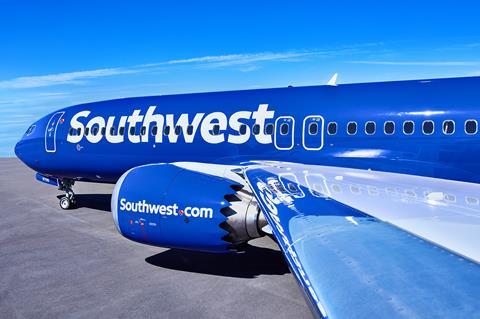 "The first quarter results are notable because they are better than what we thought they would be back in January," Kelly says.
"We still lost a billion and it was worse than the fourth quarter due to the seasonality of January and February travel. Clearly that's not sustainable, but fortunately we are here to report that we believe the worst is now behind us."
The company's first-quarter 2021 revenue fell 52% year-on-year to $2.1 billion, due to slow demand amid the pandemic. Southwest generated $4.2 billion in revenue during the same three months last year.
The recovery, says Kelly, has some way to go and the carrier must prepare for all eventualities.
"It will be messy," he adds.
MULTIPLE SCENARIOS
Passenger demand is still driven primarily by leisure customers taking vacations and visiting family and friends
"Despite recent improvements in leisure demand, the company remains cautious in this uncertain environment and continues to plan for multiple fleet and capacity scenarios," Southwest says.
The quarter turned into somewhat of a roller-coaster ride, as stalled demand in January – due to spiking case counts – turned to "modest improvement" a month later. The improvement gained traction in March.
Beach and other nature-inspired destinations continued to outperform, Southwest says.
Business travel, however, though improving, is still languishing at around 85% less than March 2019 levels.
"Based on what we are hearing from our corporate customers, it will continue to lag leisure," says Southwest president Tom Nealon. The airline expects business travel to return to 50% of previous levels by year-end.
737 MAX DEAL
In March, the low-cost carrier announced an order for 100 Boeing 737 Max 7s, cementing Boeing as Southwest's long-term aircraft partner and throwing enormous support behind the Max programme.
Additionally, Southwest converted orders for 70 737 Max 8s into orders for 70 737 Max 7s.
The airline now holds 349 Max firm orders and has 270 Max options, with deliveries planned between 2021 and 2031, Southwest says.
"This cost-effective Max order book allows us to maintain the operational efficiencies of an all-Boeing 737 fleet to support our low-cost point-to-point route network, accelerate our commitment to fleet modernisation with more climate-friendly aircraft, and capitalise on future growth," Southwest says.
The company ended the first quarter with 730 aircraft in its fleet, including 61 Max. During the three-month period, it took delivery of 20 Max. Southwest expects to receive eight more Max this year and to retire up to 17 older 737NGs.
The Max, which had been grounded for 20 months in 2019 and 2020 after two fatal crashes which killed 346 people, returned to Southwest's fleet on 11 March.
Soon after, Southwest pulled 32 examples from service due to an issue with the jets' electrical power systems.
The fix will take 2-3 days per aircraft, meaning all Southwest's affected jets could be ready to fly within three weeks, says chief operating officer Mike Van de Ven.
Meantime, the slack is being picked up by Southwest's NG fleet. The Max issue has caused no operational impacts, Southwest says.
STAFFING
Executives say the airline is back to about 92% of its pre-pandemic staffing level. While Southwest has more staff than currently needed, it is preparing for a busy summer and wants to avoid being understaffed when Americans begin taking mid-year vacations.
By June, the airline's headcount will be 96% of previous levels and, if trends continue, Southwest will reach cash break-even, Kelly says.
On 8 April, the airline said it recalled all flight attendants and 209 pilots who had taken extended voluntary leaves during the pandemic. They will return to the airline on 1 June.
"We are anxious to see what will happen when we get to June. Will August and September look as good as we hoped? Or is pent up demand not as sustained as we hoped?" he says.
Answers, however, are "a bit premature" to predict.