Southwest Airlines will cut employee pay in order to attempt to prevent furloughs through the end of 2021.
In a video message to employees on 5 October, chief executive Gary Kelly says he will take no base salary until the end of next year and that other company leaders' base salaries, which the airline already cut 20%, will be reduced another 10%. Also, Kelly says unions must be flexible in order for the airline to survive the coronavirus-induced downturn.
"As I promised, there will be no involuntary pay reductions or layoffs in 2020," Kelly says. "With temporary pay reductions there will be no layoffs for non-contract employees at least through the end of next year."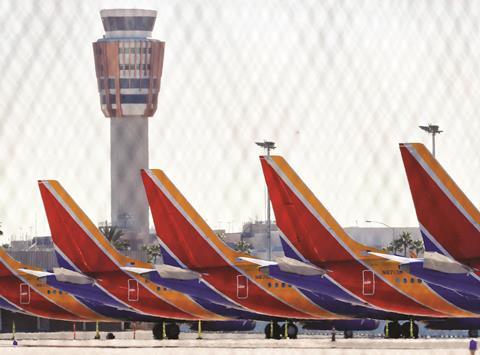 For union contract employees, Kelly says the company's labour-negotiation team has been instructed to take a "simple approach", and cost-savings goals for all employees need to be in place by the end of this year.
"My goal has been and remains, no furloughs," Kelly says. "If we fail to reach agreement on reasonable concessions, quickly, that will have to be the last resort. We simply don't have time for long-drawn-out complex negotiations."
Federal government aid to US airlines expired last week and many carriers are laying off and furloughing thousands of employees. Southwest is an outlier, having already said it will avoid such a move.
Unions, airlines and trade groups have been lobbying lawmakers in Washington, DC for an extension of the relief for another six months, in order to give the industry more time to recover after coming to a near standstill earlier this year due to the rapid spread of the coronavirus.
Legislators are still discussing an extension to the aid, but both sides still seem far apart on an agreement.
"We had hoped that the federal government would move swiftly, but they have not, and that is disappointing," Kelly says. "We have lobbied hard and have tremendous support for extending the [payroll support programme]. In the meantime our country needs us to keep flying, which means we keep burning cash every day."
If there is agreement on a new payroll aid package in the coming days, Kelly promises to reverse the pay cuts.
"We've been blessed to be rewarded in the good times, and over our almost 50 years, they're almost all, remarkably, very good times," he says. "But, it's just a law of nature: We're going to have bad times, and going to have to sacrifice in the really bad times. And, it's really bad."