IAG posted an operating loss of €452 million ($523 million) for the third quarter though its Spanish carriers Iberia and Vueling did both move out of the red.
Low-cost operator Vueling broke even in the third quarter and Iberia posted a modest profit of €21 million before restructuring costs for the three months ending 30 September 2021.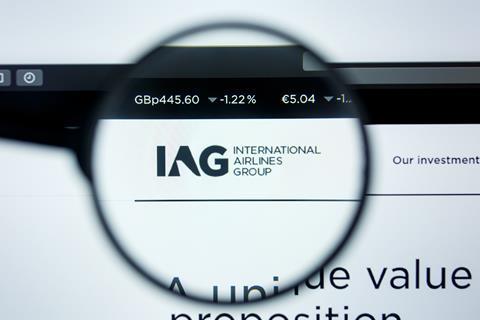 But British Airways recorded a loss of €386 million and Aer Lingus €80 million for the quarter, amid tighter travel restrictions in both the UK and Ireland.
The €452 million operating loss before restructuring costs did though mark a sharp improvement over the €1.92 billion IAG lost for the same quarter last year.
IAG 2021 Q3 profit and revenue by airline division
Operator
Operating profit
Revenue
Source: IAG, operating profit before restructuring costs, group total includes other units
British Airways
-€386m
€1,093m
Iberia
€21m
€845m
Vueling
€0m
€466m
Aer Lingus
-€80m
€131m
IAG total
-€452m
€2,709m
Speaking on a third quarter results briefing today, IAG chief financial officer Steve Gunning said: "We seemed to have passed through an inflexion point in Q3. We have stopped burning cash and began to generate it.
"We expect the improvement to continue in Q4, where we expect EBITDA to improve and be significantly positive."
Part of the improved prognosis is based on the US lifting of restrictions to fully-vaccinated travellers from Europe on 8 November, which IAG chief executive Luis Gallego describes as a "pivotal moment" for the industry.
"This will be a very important day for IAG, given our position as the largest airline group operating on the North Atlantic," he says.
"But it is not just the US and Canada that are important markets that reopening. Other large markets that are reopening include Argentina and Brazil, which are important to Iberia, and India, South Africa and Singapore which are important to British Airways."
Group capacity as measured in ASKs was at 43% of 2019 levels in the third quarter. IAG hopes to increase this to operate 60% in the fourth quarter. That will be led by Iberia and Vueling which will fly around 75% of pre-crisis level capacity. BA and Aer Lingus are set ro operate 55% and 40% of 2019 levels respectively.
At the nine-month stage IAG operating losses stand at €2.49 billion, compared with almost €6 billion after nine months last year.
"We still expect to be loss-making in the fourth quarter, but at a lessor rate than the third quarter and we expect to be EBITDA positive," says Gallego.
Consequently IAG expects to post a full-year operating loss of around €3 billion before exceptional items. But it projects a return to profit in 2022.
"In the short term, we are focused on getting ready to operate as much capacity as we can and ensuring IAG is set up to return to profitability in 2022," says Gallego.
"Our teams are creating opportunities and implementing initiatives to transform our business and preparing it for the future so that we emerge more competitive. This includes initiatives such as our new short-haul operation at Gatwick, Vueling's expansion at Paris Orly, Aer Lingus' services from Manchester to the US and the Caribbean and our new maintenance model in Barcelona."