Ultra low-cost carrier Spirit Airlines says summer travel demand was "softer than expected" in the April-June period as travellers chose more long-haul international destinations than domestic ones, while on-time performance suffered under air traffic challenges and unstable summer weather.
The Miramar, Florida-based airline said on 3 August that it lost $2.3 million during the second quarter, compared to $52 million in the same period a year earlier, even while reporting record revenue for the quarter, at $1.43 billion. In 2022, that figure was $1.37 billion during the same three months.
"Unit revenue for the second quarter 2023 was strong and well above pre-Covid historical averages," Ted Christie, Spirit's chief executive, said. "However, demand for the peak summer travel period has been softer than expected, resulting in lower fare levels on the routes we serve.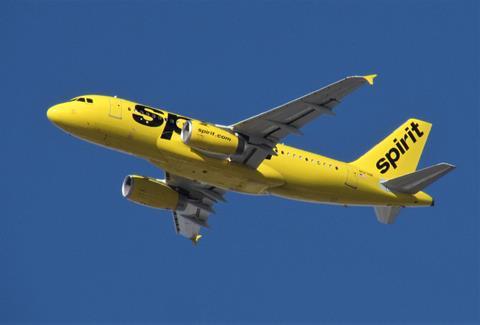 "This summer we are comparing to a period of exceptionally strong domestic and near-field international demand in 2022, while at the same time seeing demand shift away from these regions towards long-haul international," he adds.
Spirit was not immune to the well-documented problems in the air traffic management system in recent weeks. The bottlenecks, coupled with "numerous adverse weather events", brought the airline's on-time performance down to 64.4%.
"Difficult weather and challenging air traffic control initiatives are also creating a significant headwind to unit revenue," Christie adds. "These trends continued throughout July and we are assuming they will continue into the fall."
Executives say, though, that once the international travel season ends, "we anticipate that demand will shift back towards domestic".
"This should mean a more normal pricing and demand environment for the peak holiday travel periods in the fourth quarter," Christie says.
Load factor during the second three months of the year was 82.9%, compared with 86% last year.
"Despite achieving record quarterly revenue in the second quarter 2023, productivity headwinds, primarily related to pilot constraints and NEO engine availability issues, resulted in a disappointing operating margin," adds chief financial officer Scott Haralson.
PRATT ENGINE ISSUES
Pratt & Whitney's recent recall of about 1,200 PW1000G engines will affect several aircraft in Spirit's fleet and have a "significant impact" on revenue for September, the company says.
"We have up to 13 engines in this group," says Christie. "The current plan is to begin pulling these engines from service after Labour Day." The company is "assuming these seven aircraft will be out of service" from the beginning of September through the end of the year.
"Exposure to this issue is very unique and material for us," he adds. It is as yet unclear what the effect in 2024 will be, with possibly up to 10 aircraft out of service. As a result, the airline will "likely be overstaffed and carrying more pilots than we need in the fourth quarter and 2024".
"It's all kind of in the soup and we will … learn more in the course of the month," Christie says.
Spirit added five Airbus A320neo aircraft and one A321neo to its fleet during the second quarter, and retired three A319ceo aircraft. The airline ended the second quarter with 198 aircraft, 10% more than at the end of the second quarter in 2022.
It has also shifted some of its Airbus order book, including reducing 2024 deliveries by 11 and pushing out delivery dates to between 2025 and 2029, upgauging all 31 A319neo orders to A321neos and moved the timing of its option aircraft decisions by one year.
According to Cirium fleets data, Spirit currently has 50 A320-family options.