Spirit Airlines continues to target mid-2021 as the inflection point when its capacity returns to pre-pandemic levels and is betting on new Airbus A320neo and A321neo aircraft for its expansion plans, two executives from the carrier said during an online discussion on 3 March.
The ultra-low-cost carrier in 2019 set a goal of growing its capacity by 15% year on year and continues to view that as a "good benchmark", Spirit chief executive Ted Christie says during the Raymond James Institutional Investors Conference.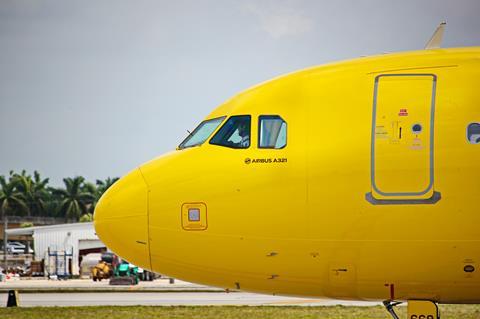 Even after Spirit's capacity returns to 2019 levels "we are looking at the summer of 2022 where we are back to our regular utilisation of all assets," Christie says of the goal of having all aircraft back in the sky and staff back at work.
To grow its all-Airbus fleet during this capacity expansion the airline will likely focus on new aircraft instead of purchasing used jets, Spirit senior vice-president and chief financial officer Scott Haralson says.
"I think the vast majority of our growth is going to be with new, next-generation aircraft," Haralson says.
Spirit is betting on a travel recovery by moving ahead with deliveries of more than 100 Airbus aircraft it ordered during 2019. The carrier plans to take delivery of 16 aircraft during 2021 and 17 in 2022. Spirit has 20 A321neos, 41 A319neos and 65 A320neos on order, Cirium fleets data shows.
Ultra-low-cost carrier Allegiant Air is taking a different approach by focusing its Airbus fleet growth on purchasing used aircraft as airlines sell their fleets to save costs and as prices drop. The Las Vegas-based carrier has purchased numerous used A320 aircraft in the past, but this fleet planning highlights its difference in business model compared with Spirit, says Cirium aviation analyst Syed Zaidi.
"Allegiant has a very different business model where they fly only where they need to and they serve many non-competitive routes," Zaidi says. "Spirit has proven they are on the new side. When you buy an A320neo they are looking for the lowest cost to fill a seat, so I guess they are willing to spend capital in exchange for the greater fuel efficiency."
Buying fuel-efficient aircraft can pay off in the long term but it costs millions of dollars extra up front compared with the used market. An A320neo built in 2021 has a full-life value of around $48 million and an A321neo built in 2021 has a full-life value of around $58 million, according to Cirium Values Analyzer.
For used aircraft Zaidi says the costs are "a wide range since it depends on what years are available".
It could cost $9 million for a used A320 that is old enough to be scrapped for parts, while a used A320 built during more recent years could cost $30 million. A used A321 could cost $10 million for the value of its parts alone and a newer used A321 could be worth $40 million.
BETTING ON RECOVERY
Spirit has been bullish about a leisure-travel recovery and operated 75% of its pre-pandemic capacity during the fourth quarter, yet the rise of coronavirus infections in the USA and the emergence of new virus variants stunted demand.
The decline of new infections in the USA and the progress on vaccination, Christie says, "portends positive things for the summer" as the airline noticed demand began to increase in February. The Biden administration on 2 March announced that it expects to have enough vaccines for every adult in the USA by May yet shipping and injecting those vaccines to every American is a separate logistical challenge.
"There is going to be some component of the longest-haul international travel that is going to be damaged," Christie says, while expecting that the "travel wallet" for the US consumer will reallocate to domestic and shorter-distance flights.
Warnings against large public gatherings remain in place from US Centers for Disease Control and Prevention. The Miramar-based carrier bet on increased travel demand in May and June 2020 when its home state of Florida loosened restrictions on gatherings at beaches and tourism businesses against the warnings of CDC health officials. A spike of new coronavirus infections in July and August 2020 forced Florida to reimpose restrictions.
It is uncertain when the pandemic will end, yet Bloomberg Intelligence analyst George Ferguson tells Cirium that "Spirit can successfully grow 15% per year for the next few years".
"The magic to Spirit is it's all about point to point, so the network doesn't have to feed the growth," Ferguson says. "A lot of where they fly has good origin and destination traffic. We think travel coming out of the pandemic will be very price sensitive, so Spirit has a real chance to take some share. A lot of what they have in Latin America is leisure oriented and they will add more [destinations] in the domestic market."