A myriad of anti-trust issues convinced Spirit Airlines' board to reject JetBlue Airways' acquisition offer and to pursue an initial proposal from Frontier Airlines.
The Miramar, Florida-based ultra-low-cost carrier (ULCC) says on 5 May that the JetBlue offer is "not superior" to the Frontier bid and that such a merger would be highly unlikely to be approved by regulators.
"You don't need to be an anti-trust attorney to see the issues here," says chief executive Ted Christie. From the beginning, "there were a number of red flags".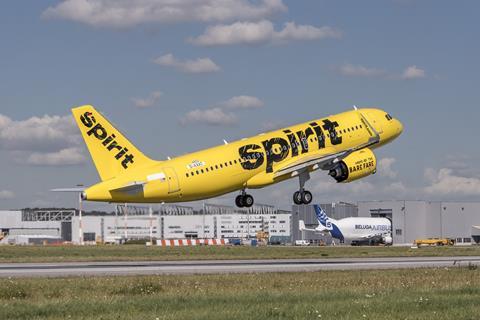 He adds that after a "thorough review", which included bringing in external advisers and asking JetBlue for additional information and commitments, Spirit's conclusion was that it would be a problematic and high-risk endeavour for the company, its employees and shareholders.
Frontier on 7 February had put forward a deal to purchase Spirit with cash and stock that at the time was valued at $2.9 billion.
JetBlue shot back on 6 April with a competing, all-cash offer to buy Spirit for $33 per share, or $3.6 billion. JetBlue said at the time that it planned to dismantle Spirit as a ULCC, using Spirit's assets to expand JetBlue. The New York-headquartered carrier revised the terms of the agreement on 2 May, to allay concerns about its so-called "Northeast Alliance" (NEA) with American Airlines.
The Department of Justice (DOJ) is suing the airlines over the NEA, which focuses on flights into and out of the Northeast USA hub cities of Boston and New York. Several other carriers, including Spirit and Southwest Airlines, have complained to the government that JetBlue's collaboration with American undermines competition in some of the most important markets in the country.
"At its core, the JetBlue proposal represents a high-cost, high-fare airline buying a low-cost, low-fare airline with half the synergies coming from reduced capacity and increased fares," Christie says. "JetBlue's acquisition of Spirit would eliminate a key competitor and a vocal public opponent of JetBlue's anti-competitive NEA deal."
To help reduce some concerns, Spirit at the end of April proposed to JetBlue that it abandon the NEA should the deal come to fruition, and demanded "a substantial reverse termination fee intended to partially compensate Spirit if the transaction failed to win anti-trust clearance".
Spirit said JetBlue responded four days later, but failed to address those concerns, "including an unwillingness to terminate the NEA".
"When we have a suitor that is being actively sued by the DOJ for a stated anti-competitive transaction it strikes us as odd that they think they can actually close on a transaction with us at this time," he adds.
The risk is that not only would the DOJ not give its approval, but that it would sue to stop it.
"That process would take 18 months or more, and we had concerns about our own business risk here," Christie says.
Spirit on 4 May reported its revenue doubled in the first quarter of 2022, as customer demand trends showed a "dramatic improvement" in the later part of the period.
The company posted $967 million in sales, up from $461 million in the same quarter in 2021. That's also higher than the $856 million it reported in the first quarter of 2019.
Capacity and load factor are climbing to more normal, pre-pandemic levels, executives said, leaving the company optimistic about its trajectory for the rest of the year and it's tie-up with Frontier.
"There's untapped and considerable demand for low-fare travel," Christie adds.