Buoyed by government aid and despite several days of severe operational disruption, Spirit Airlines turned a $14.8 million profit in the third quarter of 2021.
"Higher fuel prices, continued travel restrictions and near-term staffing issues have all played their part in delaying our return to sustained profitability," says Spirit chief executive Ted Christie on 27 October.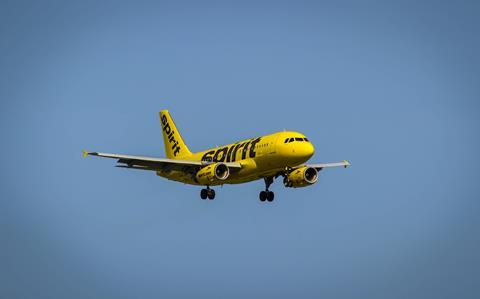 The Miramar, Florida-based ultra-discount airline generated $923 million in third-quarter operating revenue, down only 7% from the same period of 2020. Spirit's third-quarter operating expenses came in at $909 million, up 5% from the comparable period of last year.
During the quarter, Spirit logged $86 million in "special credits", which include grants received as part of the US government's pandemic-relief measures.
Spirit cancelled hundreds of flights on several consecutive days in August, throwing its operation into disarray.
"The company experienced significant operating challenges during the quarter driven in part by adverse weather conditions which, when combined with airport staffing shortages and crew dislocations, led to an unusually large number of flight delays and cancellations," Spirit says on 27 October.
To improve operational reliability, Spirit cut some flights from its schedule following the disruptions.
The airline took delivery of four new Airbus A320neos in the third quarter, ending the period with 168 aircraft.