US low-cost carrier Spirit Airlines reports a $104 million loss for the first quarter of 2023, compared with its $195 million loss during the same period last year.
The South Florida-based airline said on 26 April that revenue for the first three months of the year came in at $1.35 billion, up 40% from $967 million in first quarter 2022.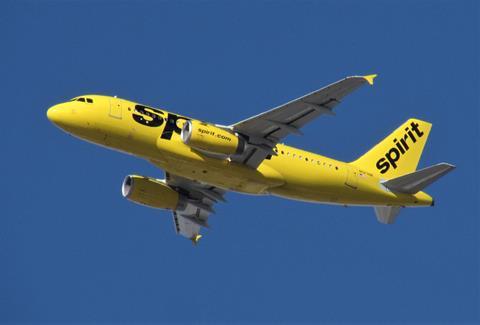 The airline's load factor was about 81%, while capacity was up nearly 13% year-on-year. Costs increased 24%, to $1.46 billion.
"For the first quarter 2023, our adjusted operating margin came in better than expected, helped by lower fuel and a strong revenue per available seat mile performance," says Ted Christie, Spirit's chief executive.
Aircraft utilisation was up 3.7% over the same period of 2022, but Scott Haralson, Spirit's chief financial officer, acknowledges that the airline's strategy is being hindered by the shortage of Pratt & Whitney's PW1100G engines and engine components, which is currently grounding a high rate of Airbus A320neo family aircraft across the airline industry.
"We continue to be hampered by Neo engine availability and pilot attrition issues that are preventing us from ramping up aircraft utilisation," Haralson says. "The Neo engine issues should improve as the year progresses but will likely remain a drag on utlisation throughout the year."
Six of Spirit's A320neos are currently in storage, according to Cirium fleets data.
'DOUBLE-DIGIT OPERATING MARGINS'
Spirit is optimistic in its outlook for the rest of 2023, however. This summer in the northern hemisphere, the low-cost carrier is planning to roughly double the number of its flights from Boston Logan International airport despite concerns about air traffic control shortages in the Northeast USA.
"We expect to be profitable for the remainder of the year with margins improving each quarter," Haralson says. "In this demand environment, and with a declining fuel price in the second quarter of this year, the business at full utilisation should be producing double-digit operating margins."
As Spirit continues adding new routes and aircraft, the airline disclosed on 26 April that it has invested in Amadeus SkySYM technology "to help optimise its flight schedule and maximise reliability for the upcoming travel seasons".
"Large commercial airlines like Spirit operate 24-seven, 365 days a year, and working through disruptions is part of life in our industry, whether it is from weather impacts, air traffic control-related constraints and other various events that can arise in the airspace," says John Kirby, vice-president of network planning for Spirit.
"SkySYM helps us proactively identify potential operational pinch points and minimise the impact through enhanced schedule design," he adds.
The software analyses historical data of Spirit's operational performance and recommends how to make improvements. It also looks at forecasts of load factors and connections and incorporates that date into schedule recommendations.
The airline's network was challenged in early April, when about 600 Spirit flights were cancelled as a severe flash flood resulted in the 40-hour closure of Fort Lauderdale-Hollywood International airport.
"Despite the significant and out-sized disruption to our network, our team was primed and ready to go on Friday morning once the airport re-opened," Christie says. "This quick recovery is a testament to the diligent efforts of our entire team as well as the innovative changes we have put in place to help accelerate recovery operations."
Spirit took delivery of five new Airbus A320neos in the first quarter and retired four A319s, ending the quarter with a fleet of 195 aircraft.
The discounter plans to add 26 new aircraft this year. Accounting for retirements of older A319s, Spirit anticipates operating a fleet of 226 jets by the end of 2024, including 32 A321neos.
Last year, Spirit shareholders voted to approve the company's acquisition by rival carrier JetBlue Airways. In March, the US Department of Justice sued to block the $3.8 billion tie-up on antitrust grounds, and now the case is set for a court trial in October.