Spirit Airlines pilots voted on 10 January to approve a new two-year union contract that could be renegotiated if the airline's pending acquisition by rival discount carrier JetBlue Airways collapses.
Represented by the Air Line Pilots Association, International (ALPA), Spirit pilots stand to gain a 27% "economic gain" from the agreement, which would be retroactive to 1 January 2023. That would represents a $463 million pay gain over the next two years, the union says.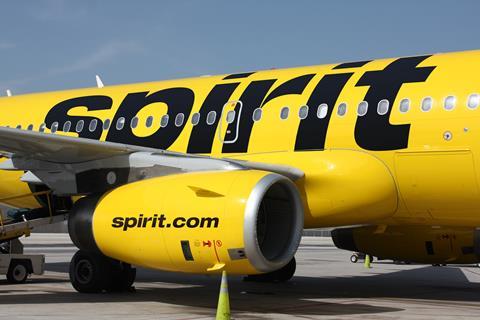 Spirit's union leaders voted unanimously on 9 December to send the deal to members for ratification.
Of 2,326 pilots who voted on 10 January, 69% approved the deal, ALPA says.
Miramar, Florida-based Spirit confirmed its pilots had ratified the contract on 10 January. "We truly value our incredible pilots, and we're proud to recognise their contributions, passion and professionalism as they keep us flying every day," says Spirit executive vice-president John Bendoraitis.
However, the bargaining agreement leaves room for renegotiation should Spirit's highly scrutinised deal with JetBlue – which is pending approval from US regulators – fall through.
"If the JetBlue-Spirit merger does not gain regulatory approval or is otherwise abandoned, Spirit pilots will immediately reenter Section 6 negotiations with Spirit Airlines' management," ALPA says.
The deal "not only offers the financial gains our pilots need today, but also creates a stronger bargaining position for Spirit Airlines' pilots at our next step, either in the merger process with JetBlue or in comprehensive negotiations with Spirit Airlines as a stand-alone carrier", says Ryan Muller, chair of the airline union's executive council.
"This agreement… stands in stark contrast to previous bargaining cycles at Spirit and other large jet carriers, where pilots have endured years of stagnating compensation while negotiating comprehensive pilot contracts," Muller said on 9 December.
ALPA represents more than 67,000 pilots that work for 40 airlines in Canada and the USA.