Spirit Airlines' shareholders will vote on the acquisition proposal from Frontier Airlines early next month, the company has said in a filing with the US Securities and Exchange Commission.
The Miramar, Florida-based ultra-low-cost carrier (ULCC) says it will hold a special virtual shareholder meeting on 10 June, and recommends investors approve the proposal.
"The board of directors of Spirit has unanimously adopted the merger agreement, has determined that the merger, on the terms and conditions set forth in the merger agreement, is advisable and in the best interests of Spirit and its stockholders," the company writes in the SEC filing on 11 May.
Frontier and Spirit have said they expect the transaction to close by the end of this year, pending regulatory approval.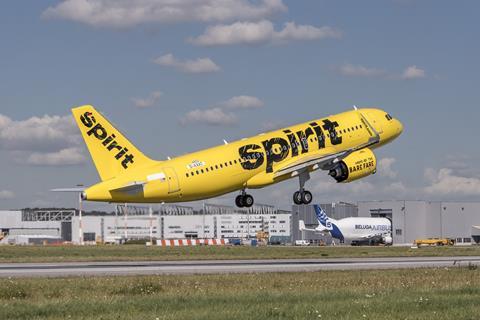 Frontier on 7 February put forward a proposal to purchase Spirit with cash and stock that at the time was valued at $2.9 billion.
In early April, New York-headquartered JetBlue made a competing, all-cash offer to buy Spirit for $33 per share, or $3.6 billion. JetBlue said at the time that it planned to dismantle Spirit as a ULCC, using Spirit's assets to expand JetBlue. JetBlue revised the terms of the agreement on 2 May, to allay concerns about its so-called "Northeast Alliance" (NEA) with American Airlines.
The Department of Justice (DOJ) is suing JetBlue and American over the NEA, which focuses on flights into and out of the Northeast USA hub cities of Boston and New York. Several other carriers, including Spirit and Southwest Airlines, have complained to the government that JetBlue's collaboration with American undermines competition in some of the most important markets in the country.
Last week, Spirit detailed why its board favoured Frontier's proposal, even though JetBlue was willing to pay more. A Spirit-JetBlue combination, said Spirit chief executive Ted Christie, would be highly unlikely to be approved by regulators, in light of the legal limbo in which the NEA is currently embroiled.
"You don't need to be an anti-trust attorney to see the issues here," Christie said. From the beginning, "there were a number of red flags".