Spirit Airlines has cut its third-quarter revenue expectations after cancelling thousands of flights due to weather and staffing issues.
In the 11 days between 30 July and 9 August, Spirit cancelled 2,826 flights, it says on 16 August.
According to flight tracking website FlightAware.com, on several days during that period the airline cancelled more than 50% of its scheduled flights, and hundreds more were delayed.
The cancellations will shave $50 million off Spirit's revenue for the quarter, the Miramar, Florida-based ultra-low cost carrier says.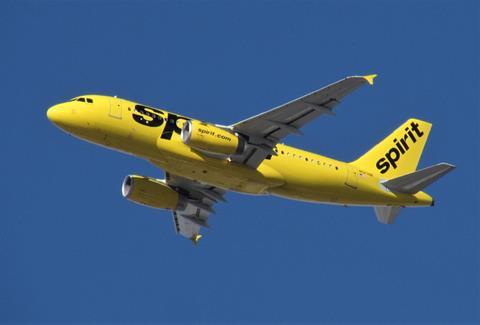 "We believe the interruption was a singular event driven by an unprecedented confluence of factors and does not reflect systemic issues," Ted Christie, the airline's chief executive, says. "Over the past few years, we have made investments to be one of the most-efficient and reliable airlines in the US industry, and we are committed to taking the steps necessary to make sure we maintain that standard."
Spirit expects another $80-$100 million less in revenue due to "softer-than-expected booking trends", customer cancellations resulting from fears of the coronavirus "Delta" variant and ensuing schedule adjustments.
"The company now estimates its third-quarter 2021 total operating revenues will be between $885 to $955 million," Spirit says. It expects its third-quarter operating expenses will be $1.03-1.04 billion, up 3% from Spirit's predictions in late July.
Last month, on the airline's second-quarter earnings call, Spirit said it expected to be profitable during the remaining two quarters of the year. Now, the carrier has revised its expectation for the third quarter, which ends on 30 September, saying it will post a loss for that three-month period.
Spirit expects its third-quarter adjusted profit margin (excluding income tax, depreciation and amortisation) will be -1% to -8%, compared to a previous estimate of 10% to 15%.