Spirit Airlines is struggling to complete flights for the fourth straight day amid system-wide disruptions due to inclement weather and staffing bottlenecks.
The Miramar, Florida-based ultra low-cost carrier says on 4 August that it "still [has] work to do, but … cancellations will start dropping tomorrow".
On 4 August, the airline had cancelled 390 flights – or 56% of its network – by 09:45 Pacific Time. Another 45 flights, or 6%, were delayed, according to flight tracking website FlightAware.com. Those figures continue to rise.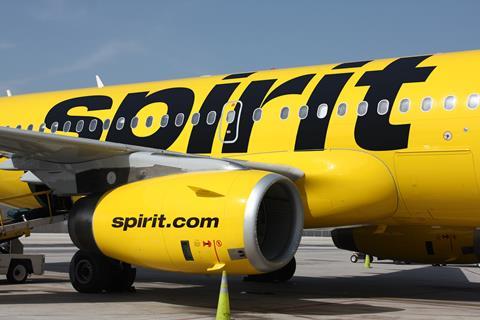 "The last three days were extremely difficult for our guests and team members, and for that we sincerely apologise," Spirit says.
"We've dealt with overlapping operational challenges including weather, system outages and staffing shortages that caused widespread irregularities in our operation and impacted crew scheduling. These issues were exacerbated by the fact that we are in peak summer travel season with very high industry load factors and more-limited options for guest re-accommodations," the airline adds.
For the better part of the past week, Spirit has been facing these "operational challenges". By the end of the day on 3 August, 61% of the airline's flights had been cancelled, with another 20% delayed. The day before, the airline cancelled 42% of its schedule, with another 29% of flights delayed.
Some media had reported that Spirit's pilots had gone on strike. But both Spirit and pilot union Air Line Pilots Association, International (ALPA), said on 3 August that there was no strike, calling the reports false.
Spirit travellers took to social media to complain and post images of crowded terminals and staff-less check-in counters.
Spirit says "lines in airports have decreased substantially as we make progress on the re-accommodations following the cancellations".
Flight attendant union Association of Flight Attendants-CWA, which represents 4,500 cabin crew at the carrier, said on 3 August it was working closely with airline management to solve the issues for that work group, adding that IT outages had left schedulers temporarily unable to access the crew scheduling system, further aggravating staffing problems.
"Spirit management has begun treating this irregular operations (IROP) as a hurricane recovery and strategically cancelled flights around the system with the possibility of a system reset," that union said.
Spirit has "identified opportunities for improvement that will help us operate a more-resilient network and better serve our guests", the airline says. "We're learning from this disruption and will get back to our high performance levels."
Leisure-travel demand has skyrocketed in past weeks, rebounding from pandemic lows. Cost-conscious passengers looking for no-frills flights have flocked to Spirit and low-cost peers Allegiant Air and Frontier Airlines during the peak summer holiday travel season.