Spirit Airlines is facing fresh opposition to its planned acquisition by Frontier Airlines, with investors suing to stop the deal and a management consulting firm recommending against it.
That firm, Institutional Shareholder Services (ISS), advises Spirit's shareholders to vote against a deal with Frontier, saying a competing offer from JetBlue Airways may be the better path, according to a statement from JetBlue.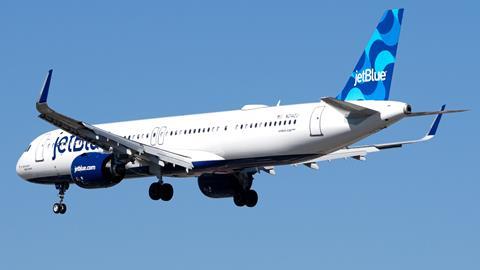 ISS itself declined to make a copy of its recommendation report available to FlightGlobal.
The developments mark the latest in a string of back-and-forth wrangling between New York-based JetBlue and Florida-based Spirit over Spirit's plan to pursue an acquisition by Frontier.
Frontier, based in Denver, offered to buy Spirit on 7 February in a cash-stock deal then valued at $2.4 billion. But JetBlue swooped in on 5 April with its own bid to buy Spirit for $33 per share in an all-cash transaction then worth $3.6 billion.
Spirit's board of directors has sided with Frontier, rejecting JetBlue's offer. Spirit says regulators are less likely to green light a Spirit-JetBlue combination due to competitive concerns, noting the Department of Justice (DOJ) is already suing to prevent JetBlue and American Airlines from implementing a joint business in the Northeast USA.
Spirit's shareholders are scheduled on 10 June to vote on whether to approve a combination with Frontier.
Following Spirit's rejection, JetBlue cut its offer to $30 per share, or about $3.3 billion total. It also took its bid directly to shareholders, urging them to vote against a Frontier deal – a move known as a hostile takeover attempt.
Meanwhile, Frontier's share price has dropped, bringing the value of Frontier's offer to buy Spirit to about $2.3 billion.
The recent report from investment research company ISS agrees a Spirit-Frontier deal is more likely to pass regulatory scrutiny but says the premium offered by JetBlue gives Spirit shareholders more options.
Spirit is not swayed.
On 31 May, Spirit chief executive Ted Christie said JetBlue should of course pay more due to the "significantly greater regulatory obstacles" posed by a combination of JetBlue and Spirit.
Christie adds that JetBlue even told Spirit that "a lawsuit from DOJ seeking to block a merger with Spirit was a 100% certainty".
"We disagree with the ISS's recommendation against the Frontier-Spirit merger, which we continue to believe is in the best interest of Spirit stockholders", Spirit adds on 31 May.
On the same day, Spirit disclosed that investors have filed 10 lawsuits seeking to block the Frontier deal. The suits claim Spirit violated securities laws by filing incomplete information related to financial projections for a merged Spirit-Frontier.
The lawsuits seek orders to bar Spirit from moving ahead with the Frontier arrangement prior to releasing more information.