Lufthansa chief executive Carsten Spohr believes ITA Airways can be profitable in 2025, if it can secure regulatory approval this year for its acquisition of a minority stake in the Italian carrier.
Lufthansa and the Italian finance ministry yesterday agreed terms on a deal under which Lufthansa will acquire a 41% stake in ITA via a €325 million ($350 million) capital increase.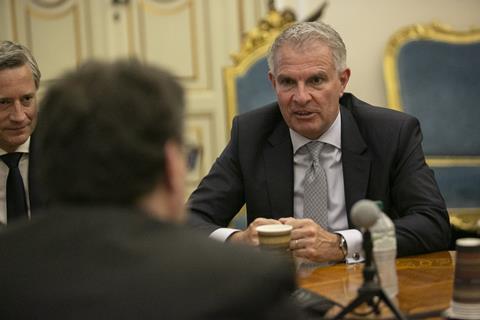 ITA Airways launched operations in October 2021 as a successor carrier to Alitalia and speaking on an analysts and media call today, Spohr drew a distinction between the new Italian flag carrier and its long-struggling predecessor.
"ITA really has nothing in common with the old Alitalia besides its market," says Spohr. "It is a new airline. It does not carry any of the legacy burdens of Alitalia. [It is] fully restructured and in our view is right-sized, and key to our industry, it has a competitive cost base.
"We have what it takes to turn this start-up company into a strong national carrier that will connect Italy to the global markets. We are confident that ITA will become a profitable, value-creating business."
ITA cited high fuel costs and the ongoing effects of the pandemic in posting a €486 million full-year net loss in 2022, its first full year of operations. Spohr acknowledges it will not reach profit overnight, but believes it can make "quick wins" to improve ITA's performance.
"If the transaction can close in 2023 and if we can assume joint control of the operations in half a year or so, we are confident we can make ITA profitable in 2025," he says.
Lufthansa also agreed options on taking full control of ITA at a later date, but Spohr stresses this is tied into the performance of the company. "The option mechanism ensures we cannot be forced into a full takeover as long as the joint business plan targets are not achieved. That was key to our negotiations," he says.
"By investing in ITA, we have taken once again a major step towards better positioning our group for the future in Europe, and the global competitive landscape. It will perhaps allow us to become even more international and less dependent on our home markets, which we believe is key to maintaining our competitive position around the world," Spohr adds