Lufthansa Group chief executive Carsten Spohr argues the relatively weak market share of ITA Airways means there is a case for European regulators to deliver an early approval for its planned acquisition of a stake in the Italian carrier.
The Star Alliance carrier group has struck a deal to initially acquire 41% of ITA – with options to take full control at a later date – and is hoping to secure European Commission approval by the year end.
Low-cost carriers had already eaten into the market share of ITA Airways' struggling predecessor Alitalia, a factor which had heaped further pressure on Italy's former flag carrier. ITA Airways, the start-up which took over as flag carrier in October 2021, is also around one-third smaller than its predecessor.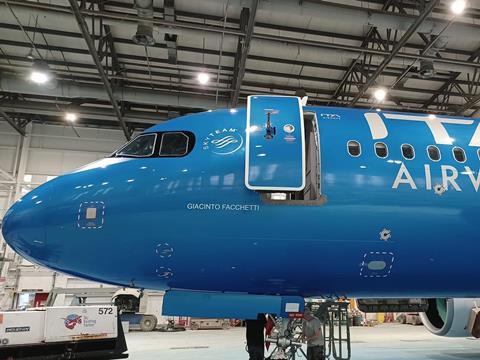 It means ITA Airways has a relatively small market share compared to Ryanair, which is the biggest operator on Italian routes. Cirium schedules data for May shows Ryanair has a 33% share of seat capacity on Italian routes versus the 9% of ITA Airways – though the gap is 23% versus 9% when measured in ASKs, reflecting ITA's long-haul network.
"I hope very much that the European Commission sees that by a strengthened ITA our friend finally has competition in Italy," Spohr said during an analysts and media call about the ITA acquisition today.
"We should not be naive. There will be a very detailed legal look at it [by the Commission]," he adds. "With such a low market share of ITA, which is the probably lowest of all national carriers in Europe, and such a strong market share of the strongest low-cost airline in Europe, I'm sure they will appreciate now there is fair competition again which the consumers to and from Italy will take advantage of."
He also points to the strong share of other low-cost carriers on Italian routes, notably EasyJet and Wizz Air. "I really think there is room for us to hope for a fast [regulatory] closure, because any delay will mean we will only later be able to influence the company and use synergies. So a dominant player will only get stronger," he says.
Regulatory approval, which stalled rival carrier IAG's move for Air Europa, is key to Lufthansa tightening co-operation with ITA Airways, including a move out into Star Alliance. ITA essentially replaced Alitalia within SkyTeam, while Lufthansa is a founding member of Star Alliance and all of its group network carriers are members of the alliance.
"Once we close, we do things like codesharing, frequent flyer programmes, Star Alliance, optimizing the schedule," says Spohr. "This is almost our basic toolset when we enter new partnership. Until then, we can only the do things we can do with competitors.
"There are things you can do with competitors, like we do with SAS – or even airlines outside Star Alliance, like where we have an agreement with Cathay Pacific, which is in another alliance. So these things we can look at. But anything else we need the closing and approval from Brussels first."