SriLankan Airlines is rebuilding its passenger network in line with its cargo operations, after the carrier experienced a near-total collapse of its tourism sales last year as a result of Covid-19, chief executive Vipula Gunatilleka has disclosed.
Whereas pre-pandemic the carrier brought around 30% of all tourists to Sri Lanka, it's network is now based around long-haul freight routes to Australia and Europe, with an increased presence in Germany and the UK.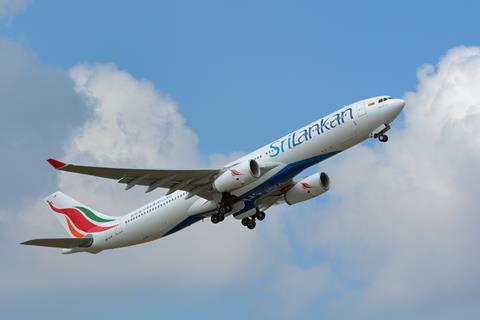 "Being an island nation we found lots of opportunities as a cargo trade [destination]", Gunatilleka told the Routes Reconnected online event on 28 April, explaining that the revenue stream is strong enough to justify the purchase of two dedicated freighter aircraft, adding: "We will start with one and add another in time to come."
Gunatilleka says the airline's Indian network has seen a particularly large reduction in operations as Covid-19 rates have soared in the country.
"Previously we had a lot of traffic coming from India, but our dependence on India has very much reduced", he says, noting that its network has fallen from 10-11 destinations in the country to just a handful of flights per week.
Network decisions have been disrupted by the evolving progress of Covid-19, with the carrier having to change routes at short notice to reflect updating travel restrictions. Bangladesh is the example of just one country that the SriLankan focused on, only for its connections to be quickly "shut down" when Covid-19 rates rose.
In the near-term the carrier is eyeing increased tourism flights to Eastern European countries and Russia, aiming to attract passengers who may have previously visited closer beach destinations such as Egypt.
Longer-term its expects tourism flows from the UK – it's largest inbound tourism source – Europe, India, China, and the Middle East to support passenger numbers, although a complete recovery will likely take 2-3 years.
"Recovery will be slow, what we are projecting best case is we would have about 40% of pre-Covid traffic [this summer]. If we can achieve [this] then it's a good victory for us, a sizeable achievement, supplemented by cargo."
Covid-19 has also forced the carrier to refocus on costs. Whereas previously SriLankan earned monthly revenues of $70-100 million, this "came down drastically" when the pandemic hit, initially falling to around $20 million per month and currently settling at near $30 million "which is resulting in a cash loss".
SriLankan has therefore made use of the opportunity to "clean" its back office, Gunatilleka says, including enacting temporary layoffs, pay cuts, and renegotiating "each and every contract", from engineering to IT. The result has been a reduced cash burn rate of around 35% since the onset of the pandemic.