Stobart Group has entered a tender to secure a long-term flying agreement with Aer Lingus beyond 2022 as part of its effort to dispose of regional carrier Stobart Air before the end of March 2021.
The group bought back regional carrier Stobart Air and lessor Propius earlier in 2020 from the administrators of Connect Airways, just a year after the units had been acquired by the consortium – in which Stobart held a 30% stake.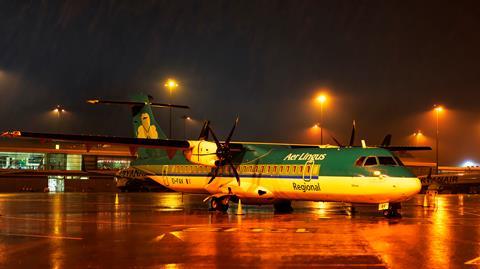 The move was aimed at mitigating its financial exposure – which dates back to 2017 – and Stobart subsequently began looking at the potential disposal of the regional carrier. In September it confirmed it was in "early stage" discussions with a number of parties including Falko Regional Aircraft over the possible sale of Stobart Air and Propius.
The Irish Independent recently reported these talks had stalled, partly because Aer Lingus had put the contract for the regional service out to tender. Regional specialist Stobart Air has operated franchise flights for Aer Lingus since 2010 and has a contract until the end of 2022.
In releasing its interim results released today, Stobart highlights that continued quarantine restrictions in Ireland and the related hit on travel demand means most of Stobart Air's fleet is grounded. This has placed significant cash strain on the business because of ongoing aircraft lease agreements. The total cash burn for Stobart Air and Propius since acquisition is around £14.7 million ($19.1 million), it says.
"We are taking immediate action to seek an exit from Stobart Air and Propius before the end of the current financial year [31 March 2021]," Stobart states. "The first step has been to reduce costs. This has included negotiating rate reductions with key suppliers, making redundancies, exercising temporary layoffs, putting in place temporary pay cuts and utilising the Irish employee subsidy schemes (furlough equivalent).
"We are also engaged in a competitive tender process in order to put in place a 10-year commercial agreement with Aer Lingus from 2023. A decision on the new agreement is expected by the end of 2020.
"A reduced cost base and a franchise agreement with Aer Lingus will make Stobart Air a more attractive proposition and Stobart Group is in active discussions with a number of parties interested in acquiring our stake in Stobart Air," it says.
Stobart Group's other aviation interests include London Southend airport, which has been hit by EasyJet closing its base at the facility and a 90% fall in passengers since the end of March.
But while the struggling passenger business has hit Stobart Group during the pandemic, that has been mitigated by a strong performance at other parts of its aviation business, notably around cargo activity.
This enabled Stobart Aviation to reduce EBITDA losses from £1.7 million to £0.9 million in the first half, despite a halving of revenues.
"In part, this was due to a reduction in airline marketing support costs, as well as reductions in staff costs," Stobart explains. "However, a major contributor to this performance was the uninterrupted income generated from the global logistics operation based at London Southend airport and operated by the Stobart Aviation Services team.
"The key focus for London Southend airport is to rebuild passenger numbers in the New Year once the current [UK] national lockdown has ended. We remain confident in our relationships with our existing carriers, Ryanair and Wizz Air, and are in positive discussions in relation to the post-winter schedule."
It adds that it is actively engaging with a range of other low-cost carriers. "It is our belief that low-cost carriers will be the first airlines to recover, offering short-haul point-to-point flights on a cost-efficient basis. London Southend airport, and its proven, well established routes, previously operated by EasyJet without direct competition, will allow airlines to generate similar yields to other London airports but at a lower cost of operation," Stobart says.