Stobart Group is considering buying back Irish regional operator Stobart Air and lessor Propius from the administrators of Flybe parent, Connect Airways.
Stobart originally sold the Irish regional operator and Propius in February 2019 to Connect Airways, a deal related to the creation of Connect Airways by Stobart Group's aviation division, Virgin Atlantic and Cyrus Airways. Connect Airways went on to acquire the assets of Flybe, but the UK regional carrier was utlimately forced to cease operations earlier this year.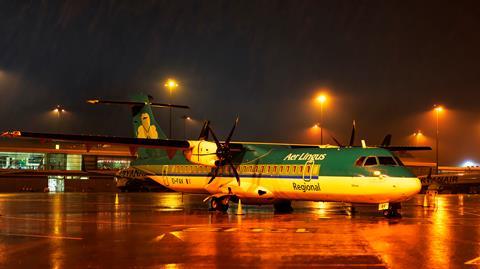 "The company confirms that it is reviewing all options in relation to the future of Stobart Air and Propius during this unprecedented time including the possibility of acquiring the businesses from the administrators," Stobart Group says in a stock market statement, noting Stobart Air or Propius are not themselves currently in administration.
"A range of discussions are ongoing and there is no certainty that any transaction will take place," it says. "The board of Stobart Group believes that Stobart Air and Propius have a viable future after COVID-19 and that by working with Aer Lingus as franchise partner it can place the business on a secure footing and manage the impact of guarantee obligations in a controlled manner."
It says the legacy obligations relate to a sale and leaseback of aircraft carried out in early 2017.
"They include maintenance commitments, together with certain obligations in respect of the franchise agreement with Aer Lingus and certain fuel hedge arrangements in respect of Stobart Air and cumulatively could potentially be significant," it says. "These obligations remained with Stobart Group after the Connect Airways transaction as they were scheduled to run off over a period of time and it was not possible for these to be released."
ATR operator Stobart Air operates regional franchise flights for several carriers, most notably Aer Lingus under an agreement dating back to 2010.