US leisure travel specialist Sun Country Airlines has applied to go public, according to a filing with the Securities Exchange Commission (SEC).
The Minneapolis, Minnesota-based airline says on 8 February that it plans to conduct an initial public offering later this year and hopes to raise $100 million. It will list its stock on the Nasdaq Global Select Market and use the ticker symbol "SNCY".
"Sun Country Airlines is a new breed of hybrid low-cost air carrier that dynamically deploys shared resources across our synergistic scheduled service, charter and cargo businesses," the airline writes in its prospectus. "By doing so, we believe we are able to generate high growth, high margins and strong cash flows with greater resilience than other passenger airlines."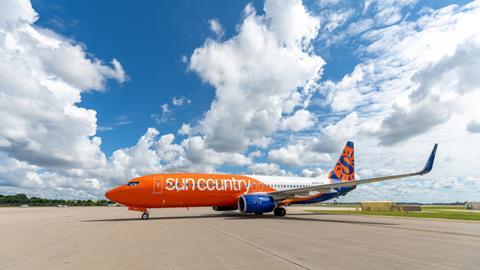 The airline goes on to say its "flexible business model generates higher returns and margins while also providing greater resiliency to economic and industry downturns than a traditional scheduled service carrier".
The SEC filing signals that the airline is optimistic that it is confident it will succeed in a post-coronavirus world. With the global crisis in now its 12th month, industry observers have said that low-cost airlines which focus on leisure travellers will likely be the fastest to rebound. Pent-up demand, coupled with increased trust in air travel as wide swaths of the population become vaccinated, will bring more customers, they say.
Still, the move is not without risk, the airline admits in its filed prospectus.
"We are depending upon a successful Covid-19 vaccine and significant uptake by the general public in order to normalise economic conditions, the airline industry, and our business operations, and to realise our planned financial and growth plans and business strategy," Sun Country writes.
"The full extent of the ongoing impact of Covid-19 on our longer-term operational and financial performance will depend on future developments, many of which are outside of our control," Sun Country says.
These include the effectivenes of mitigation strategies, the spread and severity of variants as well as related travel restrictions, the efficacy of the vaccines, the long-term impact on demand for air travel, the financial health of the airline's business partners, future government action and the carrier's access to capital.
All of these, it says "are highly uncertain and cannot be predicted".
The vacation specialist had been sold to private equity firm Apollo Global Management in 2018.
Sun Country operates an all-Boeing 737NG fleet of 31 aircraft, according to Cirium fleets data. The airline also operates charters, including for the US military, and flights for package delivery giant Amazon, in branded Amazon Air-branded aircraft.
Last month, the carrier introduced numerous new flights and added nine additional airports to its network in an effort to offer more passengers the possibility to fly direct to popular holiday destinations rather than using a mainline carrier.
In this way, potential customers can avoid the perceived risk of being exposed to the coronavirus while transferring at a major hub airport. The new routes show that the carrier is banking on attracting travellers destined for US national parks as well as beach vacations following the global pandemic.
In addition to its extensive domestic network, Sun Country also offers customers from the northern Midwestern USA direct flights to Mexico and the Caribbean.