Sun Country Airlines was able to "prudently" grow its operations in 2022, achieving a modest profit for both the fourth quarter and the full year.
The Minneapolis, Minnesota-based ultra-low cost carrier on 2 February posted a fourth-quarter profit of $7.3 million, compared to a loss of $1.1 million in the same quarter of 2021.
For the full year 2022, Sun Country earned $17.7 million compared to $81.2 million a year earlier. However, last year's profit figure had included federal aid in the wake of the coronavirus crisis in the air transport industry.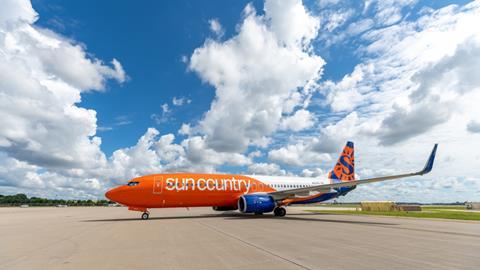 Revenue in 2022 reached a record-breaking $895 million, up 44% from 2021's $623 million. During the final quarter of the year, revenue came in at $227 million, up 32% from the same three quarters that ended on 31 December 2021.
The airline was able to increase revenue in all three of the segments in which it operates - scheduled passenger, charter and cargo – with the largest increase coming in the scheduled passenger segment, up 34% to $104 million during the fourth quarter. For the year it was a 57% increase, to $438 million.
Chief executive Jude Bricker said that "despite constraints on the airline's growth" and the impact of Covid-19's Omicron variant the first months of 2021 as well as more-expensive jet fuel, the airline was able to increase both margins and block hours.
Especially during the last week of the year, when severe winter weather disrupted airline operations across the country and threw competitor Southwest Airlines into a crisis, Sun Country was able to maintain a well-functioning network.
"Over the important holiday travel season, our operations team produced the industry's highest completion factor of 99.3%," Bricker says. "We are very optimistic about 2023, as we continue to see strong bookings, unit revenues and earnings growth heading into Q1."
The company is targeting revenue of $280 million to $290 million during the first quarter of 2023, which would be a 24-28% increase over the first quarter of 2022. System-wide block hours are expected to climb 3.5-6.5%.
"Fourth quarter demand continued to remain strong," adds chief financial officer Dave Davis. "We have continued to prudently grow our airline as we have overcome supply chain challenges and the complexities of implementing a new pilot agreement."
Sun Country's pilot agreement, which gave flight deck personnel a substantial raise, went into effect at the end of 2021. Davis said the carrier added six aircraft in 2022, bringing its fleet to 42 passenger aircraft and 12 freighter jets that it operates exclusively for Amazon. The airline ended the year with 571 pilots, 25% more than at the end of 2021.
Sun Country will hold an analyst call on 3 February to give more details on its fourth quarter results.