Sun Country Airlines' diversified business model – which includes scheduled passenger services, charter flights and freight transport – helped propel the airline to a first-quarter profit.
The Minneapolis, Minnesota-based ultra-low-cost carrier on 6 May revealed a profit of $12.4 million for the first three months of the year, up 71.2% from the $7.3 million it earned in the same period a year ago.
Total revenue at the carrier came in at $127 million, down 29% from the $180 million the carrier earned in the first quarter of 2020. A 52% drop in revenue from scheduled services fuelled that decline.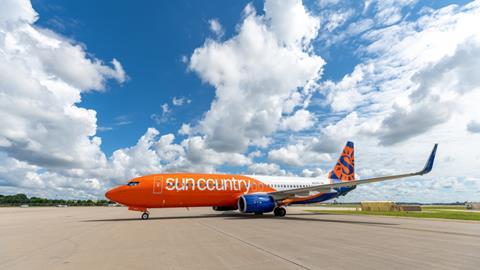 The airline is reporting its first set of quarterly results since its shares began trading on the NASDAQ exchange in March.
"While we remain in an unpredictable environment, our business is continuing to recover from the impact of Covid-19 on industry demand," says chief executive Jude Bricker. "I am encouraged by the recent improvement we are seeing in forward bookings. Demand really picked up in mid-February, and that momentum continues."
The company increased capacity 12% in the first quarter, with its new cargo segment offsetting the 22% decline in scheduled and charter passenger capacity. Load factor for the airline's scheduled flights fell to 67% from 76% a year earlier. But that is about to turn, executives say.
"As of today, our summer schedule is sold to a higher load factor as compared to the same time in 2019," Bricker adds "Our charter business is recovering quickly, and we are flying a full twelve aircraft schedule in our cargo business."
Sun Country completed an initial public offering of almost 10.5 million shares on 9 March. That IPO raised $225 million in net proceeds, and valued the company at $1.84 billion. With the funds, the carrier paid off its first payroll support loan of $45 million that it had taken from the US government in October 2020.
CARGO OPERATIONS
In December 2019, Sun Country signed a six-year deal with e-commerce giant Amazon Air, and began operating Prime Air-branded aircraft for the company in May 2020.
"Cargo and charter flying have proven to be more resilient during the pandemic, demonstrating the flexibility that has been built into the Company's business model," Sun Country says.
Revenue from cargo operations – which did not exist in 2020 – was $21.6 million. "We expect stable volumes from our cargo business going forward," Bricker says.
For the second quarter, the company is expecting revenues of between $129 million to $135 million, a decline of 20-24% from the same period in pre-coronavirus 2019.
The company's business is primarily seasonal, with the busiest period for passenger transport usually falling in the winter months, as customers seek to escape the cold weather in the northerly USA for a break in southern sun destinations.
Bricker says that one of the airline's long-term goals is to "deseasonalise" this business. But since the carrier's customers are skewed towards leisure as well as the visiting family and friends segment of the market, the company's focus will continue to be biased toward holiday periods.
"There's nothing we can do to get people flying in September, we will just be flying boxes," Bricker says.
FLEET ADDITIONS
Sun Country operates an all-Boeing 737NG fleet of 43 aircraft, 31 of which are configured for passenger service and 12 are branded Amazon aircraft for its cargo operation, and for which it provides the crew, maintenance, insurance and operating certificate. The airline will take delivery of three more aircraft during 2021, and hopes to acquire additional aircraft in the course of the year.
Second-hand aircraft sales prices, executives say, are amenable to a possible further expansion of the fleet.
"We are actively in the market for additional aircraft," the company's chief financial officer Dave Davis says, adding that Sun country "may accelerate some of those acquisitions" if it finds good deals.
"I think we can [add] about one a month pretty sustainably," Bricker adds.