Sun Country Airlines benefited from rebounding leisure traffic during the third quarter of 2021, ending the period with a small profit.
The Minneapolis, Minnesota-headquartered low-cost carrier says on 1 November its profit for the quarter was $13.9 million, on quarterly revenue of $174 million.
That is more than double last year's $78 million in revenue during the same three months that ended on 30 September, and marginally higher than in the same quarter in 2019.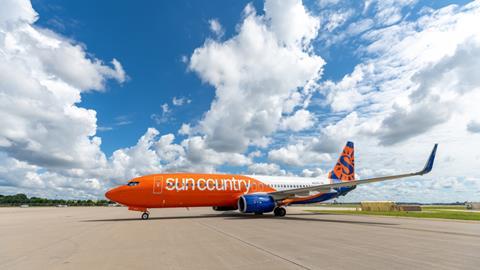 "We had a great third quarter," says chief executive Jude Bricker. "We posted our highest adjusted operating margin, adjusted pre-tax margin and adjusted net income since the first quarter of 2019."
Sun Country's available seat miles increased 7% over the previous quarter but remain 16% lower than in the third quarter of 2019, amid "unpredictability of the demand environment".
The airline conducts scheduled flights and has sizeable charter and cargo businesses.
Sun Country's charter revenue rose to $34 million, up 17% from the second quarter but still 26% less than its third-quarter 2019 charter revenue. Cargo revenue rose to $24 million, 10% more than the previous quarter.
Sun Country's charter customers include collegiate and professional sports teams, the US Department of Defense and casinos. Its cargo division operates flights for Amazon under an arrangement that began in May 2020.
Scheduled service revenue during the third quarter of 2021 was $80 million, up from $67 million in the second quarter.
The company now has 35 passenger aircraft in its all-Boeing 737NG fleet, two more than at the end of June. Sun Country has acquired five aircraft this year and is "actively pursuing other used aircraft transactions".
The carrier also has 12 aircraft dedicated to its Amazon freighter service.
Sun Country went public on the Nasdaq exchange on 17 March under the ticker SNCY.
The airline will hold an analyst call to deliver more details on its third quarter results on 2 November.