Sun Country Airlines has the ultra-low-cost carrier playbook nailed down.
The airline has a single crew base in Minneapolis, only Boeing 737s and a singular focus: "flying people where they want to fly" for low fares, the airline's chief operating officer Greg Mays told FlightGlobal during the MRO Americas event in Atlanta on 18 April.
Sun Country also operates out of of other Midwest cities, especially during winter months, flying "snowbird' holiday travellers from Madison and Milwaukee (Wisconsin) to balmier places such as Las Vegas and Fort Myers (Florida).
But this coming summer, Sun Country plans to tweak its strategy by launching new routes – some seasonal-only – to a host of US cities, offering what Mays calls more "big city connectivity".
In one of the ultra-low-cost carrier's largest-ever network expansions, Sun Country is in the midst of rolling out 15 new routes.
The airline is launching flights from Minneapolis to Charlotte (North Carolina), Columbus (Ohio), Kansas City (Missouri), Richmond (Virginia), Louisville (Kentucky), Colorado Springs, Atlantic City (New Jersey), Omaha (Nebraska) and Detroit (Michigan), among other smaller cities. Most of the flights will operate twice weekly.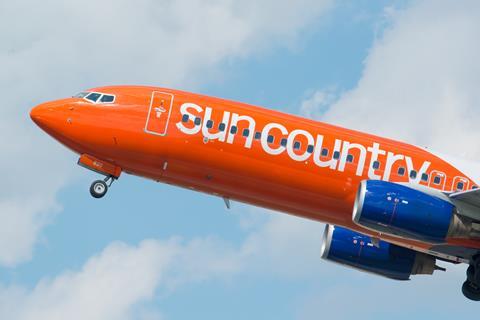 "We will start operating [out of] Seattle this summer", with flights to places other than Minneapolis, Mays says. "We will connect to a lot of big city markets, mostly out of Minneapolis, but we have a big Dallas network during the summer, as well."
Sun Country grew "prudently" during its recovery from the pandemic-related downturn in air travel but aims to get bigger this summer, with plans to be flying 120 routes to 90 airports.
"Every block hour we add, we want to add it to scheduled service because it is kind of the best thing right now," Mays says. "We feel really good about our summer. We have been working very hard operationally to make sure that we are delivering a good operation for our passengers, and there are 15 new markets we are executing on now."
'INHERENT ADVANTAGE'
Based at Minneapolis-Saint Paul International airport, Sun Country operates three lines of business – scheduled passenger flights and charter flights, and cargo flights using 12 Boeing 737NGs on behalf of Amazon Prime.
Mays believes that business mix sets Sun Country apart from a crowded US discount airline market, which includes well-established ultra-low-cost carriers Allegiant Air, Spirit Airlines and Frontier Airlines and start-ups Avelo Airlines, Breeze Airways and yet-to-launch Red Way.
The company's $38 million first-quarter profit was partly driven by its humming charter business, from which revenue jumped 40.5% compared with last year.
"Our diversified business model is unique in the industry," chief executive Jude Bricker said during Sun Country's 28 April earnings call. "Due to the predictability of our charter and cargo businesses, we are able to deliver the most flexible scheduled service capacity in the industry."
"The combination of our schedule flexibility and low-fixed-cost model allows us to respond to both predictable leisure demand fluctuations and exogenous industry shocks," Bricker adds.
Sun Country became a publicly traded company in 2021 after the Covid-19-related standstill in air travel "showed the resilience of our business model, which positions us really well to take on a downturn", Mays says.
Another advantage, according to Mays: Sun Country's network peaks each weekend, typically with heavy flight schedules Thursday through Monday. "We have the opportunity to reset," he says. "A lot of the fleet goes on the ground, as most people don't want to fly on Tuesday."
"That is an inherent advantage we have from a network standpoint, to be able to recover from issues," he adds.
That strategy – to fly more on days people want to travel, less on days they do not – is not unique to Sun Country. US competitor Allegiant Air, also an ultra-low-cost carrier, built its business around the same principal. Other ULCCs like Frontier and Spirit have much less schedule variability.
On the other hand, being based in Minneapolis – which recently recorded its third-heaviest winter snowfall ever – creates unavoidable challenges. "Operating in extreme weather is something that has got to be built as a core competency," Mays says.
Harsh winter conditions are probably good for demand for air travel out of Minneapolis, Bricker says, but also drive "a lot of costs". The airline recently invested in new de-icing equipment and has changed how it staffs de-icing trucks.
"We had quite the winter this year to help us see how we are doing," Mays adds.
Sun Country reported a greater-than-99% controllable completion factor during the first quarter of 2023, and says it prides itself on avoiding flight cancellations.
STRENGTH IN SIMPLICITY
Sun Country operates a single-type fleet of 737NGs, of which it now has 54, according to Cirium data. The company's fleet strategy has focused on expansion through acquisition of more mid-life 737NGs.
"The 737-800 has got great economics for us," Mays says. "We like the strategy… I do not see us changing it in the near term. But obviously there is a point in time in which you really have to adjust and start to purchase new aircraft."
"With a strategy of purchasing used aircraft on the open market, you cannot acquire as many as you want in a short period of time," he adds.
The airline recently disclosed having "opportunistically" acquired five 200-seat 737-900ERs, which are now being leased to Oman Air but will enter Sun Country's fleet in 2024 and 2025 as the leases expire. The jets have more capacity than its 183-seat 737-800s, and taking five "guarantees sufficient scale to be efficient", Sun Country says.
"We are not opening a new line of business. This is just a way for us to guarantee future capacity growth and get scale in a new variant," Bricker says. He expects the five leases will generate about $1 million in monthly operating income.
Orders for 737 Max aircraft are unlikely for Sun Country as long Boeing is struggling with production, Mays says. Purchasing anything aside from 737s also is not going to happen – for now.
"We actually… could probably make a widebody work someday," Mays adds. An opportunistic acquisition of a widebody jet could make sense – especially for Sun Country's charter and cargo operations – but the carrier has no immediate plan to make such a move.
Regarding the global maintenance, repair and overhaul (MRO) shortages affecting airframers and airlines alike, Sun Country has had difficulty working with Boeing to configure newly acquired used aircraft.
"There are still major constraints around getting seats, getting Boeing service bulletins and those types of things," Mays says. "The lead time to get that stuff done is months and months."
The airline also remains "block-hour constrained due to staffing", Bricker says, with block hours per aircraft trending significantly lower in the first quarter than pre-pandemic levels.
"Utilisations dropped fairly dramatically," chief financial officer Dave Davis said during the company's 28 April earnings call. "The number of average aircraft in our fleet is up substantially. The number of pilots… is up substantially. Essentially, I would think of us right now as a little bit oversized for how much flying we are doing."
Part of that imbalance reflects Sun Country's strategy of operating more flights on higher-demand-travel days, Davis explains. "If we have to suffer a little bit on overall utilisation because the aircraft are parked during during off-peak times, so be it. Because the overall profitability trade-off is there."
Sun Country plans to stay nimble with scheduling this summer, adjusting as necessary, Mays says. "One of our competencies, beyond operating in extreme weather, is retooling our network and being able to move in and out of stations really quickly and efficiently."
That means Sun Country is likely to strike some planned new routes if the economics prove unsustainable – also a strategy embraced by Allegiant.
"We are trying a lot of new things in the network, and I would probably like to see 20% of them fail… Things might not work, and we will have other, better opportunities," Bricker says.