Sun Country Airlines notched higher revenue during the second quarter of 2022, as leisure travel demand rose. However, the Minneapolis, Minnesota-headquartered carrier joins its airline peers across the USA in struggling with ensuring it has enough qualified and current flight crew to cover all of its needs.
Sun Country said on 8 August says it posted a loss of $3.9 million for the second quarter, which ended on 30 June, while revenue rose to $219 million from $149 million in the same quarter a year ago. That's an increase of 46.8%. Compared to the same period in pre-pandemic 2019, revenue came in 29% higher.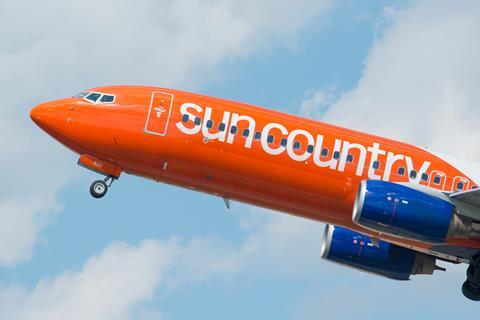 But expenses also more than doubled, primarily owing to the higher cost of aviation fuel, as well as salary increases.
Sun Country flies a mix of scheduled service, charter and cargo operations with an all-Boeing 737 fleet.
"We continued to see strong leisure demand in July and expect it to stay elevated through the summer travel period," says chief executive Jude Bricker. "We are facing the same training challenges that have impacted the rest of the industry, resulting in less scheduled service flying than we would like to have flown and negatively impacting results."
"Demand continues to be at some of the strongest levels that we have seen," echoes chief financial officer Dave Davis. "Unfortunately, despite growing second quarter block hours by 23% versus 2019, we were undersized in the quarter due to training challenges limiting our scheduled service and ad hoc charter growth."
The airline says that 92% of its charter block hours are flown under long term contracts.
Bricker adds that the company is "making progress on resolving these training challenges" and they will be temporary. "I am as bullish as ever on all of the critical factors that will determine Sun Country's long-term success," he adds.
Sun Country flew 10% more block hours than during the same three-month period last year, with most of that growth driven by the company's cargo business, which launched in 2020. Scheduled service and charter block hours declined 9% and 5% respectively, compared to the same period in 2019.
The carrier ended the second quarter with 41 aircraft in its passenger service fleet, and twelve freighter aircraft in its cargo operation.
Sun Country expects third quarter revenue to come in at between $215 and $220 million.
The company will hold a call on 9 August to give more details about its second-quarter earnings.