Sun Country Airlines began trading on 17 March under the ticker "SNCY" on Nasdaq priced at $33 per share, higher than its original expectation of $21 to $23 per share, giving the low-cost carrier a market value of $1.84 billion.
The Minnesota-based airline priced its initial public offering at $24 per share on 16 March before trading began. The airline could raise $218 million for the initial sale of 9 million shares of common stock or $251 million if underwriters exercise their option to buy an additional 1.36 million shares at the offering price.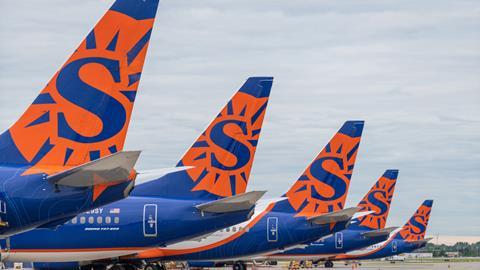 The stock ended the trading day at $36.38 amid a flurry of optimism for airline stocks as coronavirus vaccination brings hope for a recovery in air travel. Stock prices that same day rose 2% for Southwest Airlines, 2.8% for American Airlines, 2.1% for Delta Air Lines, 4.5% for Spirit Airlines, and 4.4% for United Airlines.
The trading debut marked the first time a US airline became publicly traded since regional carrier Mesa Airlines did so in 2018.
Rival ultra-low-cost carrier Frontier Airlines on 8 March also filed for an initial public offering of stock with the US Securities and Exchange Commission (SEC), a year after cancelling its previous bid for a $100 million offering that it initiated in 2017.
Part of Sun Country's offering proceeds will be used to pay off a loan from the federal government that the airline took through the US CARES Act. Sun Country entered into a loan agreement with the US Treasury Department on 26 October, the same month that the first federal payroll support programme expired. The airline as of 31 December owed $45 million to the US Treasury, which is due by 2025.
Apollo Global Securities, which bought Sun Country in 2018, is a co-manager of the stock offering and will control a majority of voting stock after the offering ends on 19 March. Co-managers also include AmeriVet Securities, Siebert Williams Shank, and Tribal Capital Markets. Barclays, Morgan Stanley and Deutsche Bank Securities are joint lead bookrunners, while Goldman Sachs and Nomura are joint bookrunners for the offering.
Sun Country operates 31 Boeing 737NG aircraft for both scheduled leisure routes and charter services for customers including the US military and college sports teams, Cirium fleets data shows. The carrier plans to only purchase mid-life used aircraft and to "take advantage of falling aircraft prices with purchases at the time of our choosing", it says in a filing to the SEC.
The airline in May 2020 began flying 10 aircraft on cargo routes for Amazon Air, a contract that has since been expanded for it to operate two additional aircraft.