Sun Country Airlines reports earning $7.6 million during the third quarter as chief executive Jude Bricker cited the lack of pilots upgrading to captain as a persistent problem.
In comparison, the Minneapolis, Minnesota-based carrier earned $10.7 million in the third quarter of 2022.
Sun Country said on 7 November that revenue during the three months ending in September reached $249 million – a company record for the third quarter. That was 12% higher than the previous year's quarterly total revenue of $222 million.
"Due to captain availability, we flew about 3,500 fewer block hours in the third quarter – mostly in July – than the demand environment would have supported with our fleet and the fuel price input," Bricker says. "We continue to see staffing levels improve, but more slowly than we would like."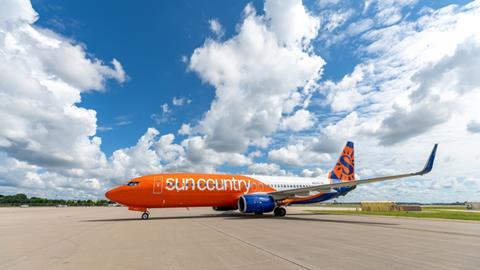 The captain bottleneck has caused the all-Boeing 737 operator to tweak its fleet expansion plans.
"As growth has moderated based on pilot staffing, we have decided to lease out two additional aircraft that were scheduled to enter our fleet" in the fourth quarter, Bricker says. "This will delay into service two 737-800s until the first quarter of 2025."
The leisure and charter carrier has been grappling with the captain upgrade issue for several months, lamenting a lack of pilot instructors and first officers willing to upgrade to captain.
"For a year now, the issue has not been hiring pilots," Bricker says. "And the issue has not been pilot attrition. The issue has been on the upgrade front… We don't see a shortage of pilot availability at this point."
Compared with last year, the carrier flew 14% more block hours during the third quarter.
Executives say boosting aircraft utilisation will be a priority in the months ahead, as Sun Country's average daily aircraft utilisation was 6.6h during the quarter.
The carrier's expenses increased about 11% to $230 million during the third quarter, thanks largely to a 24% increase in salaries and benefits and 39% higher maintenance costs.
Sun Country's cargo flying on behalf of Amazon increased about 6% year-on-year, to $26 million, while the carrier's charter service posted a profit of $47 million – up nearly 11% over the same period of 2022.
"The way we integrate charters and scheduled service is unique in the industry," says chief financial officer Dave Davis. "We'll build aircraft routing that incorporates both of those lines of business depending on the season."
The airline recently added 10 cities to its 2024 summer travel schedule out of Minneapolis, including flights to Montreal and Toronto.
"I think this is representative of our growth for the next few years as we continue to expand… during peak periods, supported by modest off-peak growth in our charter business," Bricker says.
Sun Country ended the quarter with 42 passenger aircraft and 12 cargo-configured jets – all Boeing 737NGs.
"Fleet growth in 2024 will be modest," Davis says.
Through the first nine months of 2023, Sun Country reports $211 million of capital expenditures, "which has funded a significant amount of our planned aircraft growth into 2025", he adds.
For the fourth quarter, Sun Country is forecasting revenue of $242 million to $252 million, which would be seven to 11% higher than in 2022.