Minnesota-based ultra-low-cost carrier Sun Country Airlines reports that its aircraft utilisation been held back in recent months by a lack of pilot instructors and first officers willing to upgrade to captain.
Chief financial officer Dave Davis said during Bank of America's 18 May transportation conference that "looking forward, we are not seeing any weakness" in the demand environment. "If anything, the issue for us is just that we are smaller than we should be."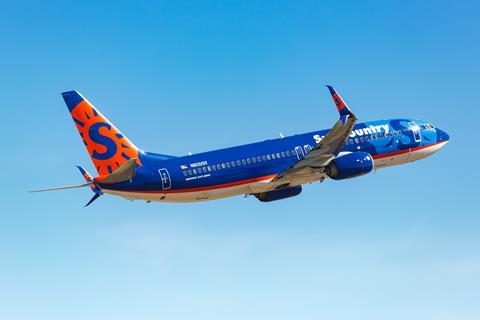 Davis says that the company's top passenger capacity restraint for the past several months has been "pilot production".
"I want to differentiate between pilot production and pilot availability because we signed a brand-new pilot deal at the end of the fourth quarter in 2021," he says. "Since then, our attrition is down massively. We are able to hire all of the pilots we need."
The pinch points have now become "instructor availability" and a lack of first officers pursuing upgrades to captain – an issue affecting many regional airlines and ultra-low cost carriers.
During its fiscal second quarter earnings call on 9 May, US regional carrier Mesa Airlines reported that "the current industry bottleneck is now ensuring an adequate number of qualified first officers to upgrade to captain".
At one point last year, Sun Country had only five line check airmen available to train its pilots. That number has since grown to 19 "and we are trying to drive it into the high 30s", Davis says.
The carrier is making progress on boosting its flight crews, Davis says, producing "35% more pilots in the first quarter of this year than we did in the first quarter of last year".
Based on its current pilot-production levels, the ULCC anticipates "getting our utilisation to where we need to be probably mid-2024", Davis says.
"We actually have a lot of the pilot bodies in place," he adds. "We just have to get them through training."
Based at Minneapolis-Saint Paul International airport, Sun Country operates three lines of business – scheduled passenger, charter and cargo flights.
Sun Country's charter business mostly caters to professional sports teams, casinos and the US military, while it operates 12 Boeing 737NGs to haul freight on behalf of Amazon Prime.