Alaska Air Group on 20 April become the latest US airline to report a first-quarter loss, swinging $142 million into the red during the three months ending in March.
The Seattle-based airline company's revenue jumped significantly year on year, but so too did costs, leaving Alaska with a quarterly loss nearly identical to the $143 million it lost during the same period of 2022.
"This quarter we returned to pre-pandemic levels of flying and our roadmap to profitable growth is on track," says Alaska chief executive Ben Minicucci. "As we progress through the year, we have taken deliberate steps to build momentum and we are well prepared for peak summer flying."
While Alaska's first-quarter capacity in available seat miles (ASM) slightly exceeded its capacity in the first quarter of pre-pandemic 2019, the company carried about 5% fewer passengers.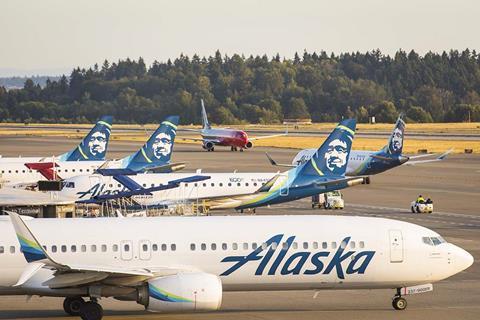 Speaking during a 20 April earnings call, Minicucci adds that the first quarter is typically weak for US airlines, and that Alaska's loss primarily reflects "network seasonality". Executives also note that demand from business travellers has been slow.
Still, the company says it experienced strong "operational and financial performance trends" in March. It expects that strength will continue through the second quarter.
Alaska, which owns Alaska Airlines and regional carrier Horizon Air, generated $2.2 billion in first-quarter operating revenue, up 31% year on year. Its capacity jumped 14% year on year.
But Alaska's first-quarter operating expenses surged 27% year on year to $2.4 billion. It spent $665 million in fuel during the first quarter, nearly twice its first-quarter 2022 fuel costs.
During the first quarter Alaska received six Boeing 737 Max 9s, bringing its total Max fleet to 43 aircraft. Including all types, Alaska Airlines ended the quarter with 219 narrowbody jets, down from 225 one year earlier.
The company still operates 10 A321s but intends to retire all those by September, leaving Alaska Airlines as an all-737 operator, says chief financial officer Shane Tackett.
Alaska expects its second-quarter capacity will be up 6-9% year on year, largely reflecting Alaska's transition to larger aircraft, says chief commercial officer Andrew Harrison.
This year, Alaska intends specifically to bolster its operations in Portland and California, Harrison adds.
News of Alaska's first-quarter loss comes two days after United Airlines reported losing $194 million in the first quarter. Last week, Delta Air Lines said it lost $363 million in the period.