The rise of sustainability as a challenge for the airline industry has been accelerated by the Covid-19 pandemic, to the point where business success is inexorably linked to carriers significantly reducing their environmental footprints, in the view of Air France chief executive Anne Rigail.
"We need to be competitive to be sustainable, and if we are not sustainable, we will not have any customers any more in our aircraft," Rigail states during a CAPA Live event today. "So both are totally linked."
Since 2019, sustainability has rocketed up the airline agenda, Rigail explains, amid rising expectations among the travelling public. And the imperative to address the issue is becoming "all the more acute" as living through a devastating global health crisis causes people to question the future impact of "ecological emergencies".
To meet this challenge, "we have to be very transparent on our environmental impact", Rigail says. "Our duty is to reassure our customers that we are doing our utmost, with all the stakeholders… so that we can [offer] the most sustainable travel."
With that goal in mind, airlines will need to be competitive enough to pay for the fleet renewals that deliver greater efficiencies, alongside investments in sustainable aviation fuels, which Rigail notes are extremely expensive today.
At Air France, fleet investments – and the "20-25%" efficiency savings they bring – have been protected, despite the need to cut capital expenditure during the Covid-19 crisis, Rigail says.
The SkyTeam carrier is continuing to receive 38 Airbus A350-900s – with six taken so far, according to Cirium data – while the first of 60 Airbus A220s is due to arrive in September this year.
Among the toughest challenges ahead, Rigail observes, long-haul flying is unlikely to be achievable with the electric and/or hydrogen-powered aircraft that could service short-haul routes by the mid-2030s.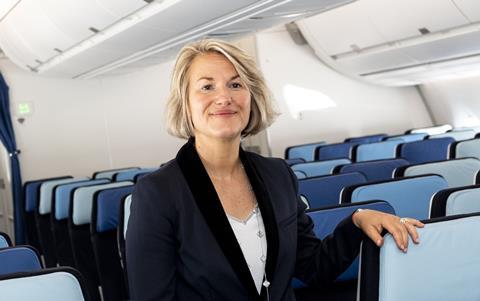 "That's why sustainable fuel is not only a transition action plan," Rigail states. "We know that the current aircraft can be used with 100% sustainable fuel, so we have to put all our investment and focus also on sustainable fuel."
And airlines cannot face "the big issues" alone, Rigail says. "We have to do this in partnership with the aircraft manufacturers and the engine manufacturers.
"It's the whole value chain that has to face this new challenge."
She also cites French government and European Union commitments to invest in "green" aircraft as crucial. At the same time, Air France supports the aims of the recently released Destination 2050 roadmap for European aviation to achieve net-zero carbon emissions by 2050.
Rigail also predicts that consumer interest in sustainability "will probably lead our customers to change the way they travel", with a focus on "more fair use of air transport" in corporate and leisure markets.
Air France expects customers to take a longer trip at the expense of "several weekends during the year", with combined professional and leisure trips becoming more common due to shifts in working practices brought about by video conferencing.