Swedish carrier Braathens Regional Airlines (BRA) has appointed Ulrika Matsgard as its new chief executive, effective 1 July.
She replaces Geir Stormorken, who has returned to BRA parent company Braganza, having been brought in to oversee a restructuring of the airline in March 2019. Stormorken will continue to be a member of BRA's board, but Per Braathen – who owns Braganza with his immediate family – has taken over as chairman.
New chief Matsgard had been working as BRA's commercial manager since 2017.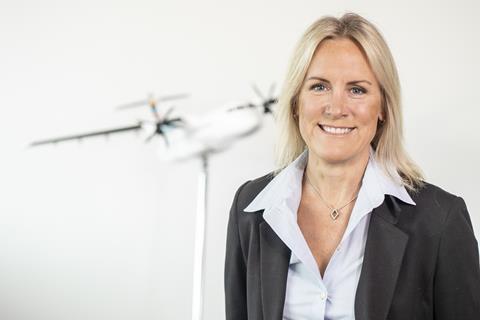 "A strong customer focus, high flexibility with slimmed-down cost levels, and a clear sustainability strategy… are some reasons why I feel that we have every opportunity to succeed," says Matsgard.
BRA resumed flights in May following a grounding of operations that lasted more than a year. It expects to have 12 ATR 72-600s in service by September, operated by Braathens Regional Airways, which is now the sole AOC holder within the Braganza group.
Pre-crisis, Stormorken led an initial major restructuring of the carrier, focused on sustainability. As BRA reshaped its operations, BAE Systems Avro RJs were phased out and an order for Airbus A220s was dropped, with the carrier turning to ATR turboprops instead.
When Covid-19 struck, the company grounded all flights on 6 April 2020 and was forced to enter into a formal corporate reorganisation, which was completed in September 2020. It had intended to restart operations sooner, but a resurgence of Covid-19 cases in Sweden forced it to push back its return to this year.
"Geir did a brilliant job as he led the company through this crisis and until the restart of flights we made in mid-May," says Braathen.