Higher pilot pay rates at regional airlines could become a problem as carriers seek to balance a pilot shortage with maintaining flights to smaller US communities.
Speaking at the annual Regional Airline Association (RAA) leaders conference in Washington, DC on 20 September, airline chiefs say a shortage of cockpit crew has driven up pilot pay, with no telling when or if such pressure will ease.
"We are a bit nervous about the rates," says SkyWest Airlines chief executive Chip Childs, adding that recent salary increases are "deeply concerning" for airlines.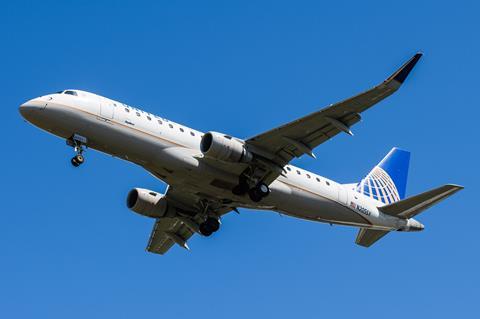 "We are in a bidding war.. It's not good for any of us," says CommutAir CEO John Sullivan.
GoJet Airlines CEO Rick Leach adds, "We never thought we would see rates at this level. It's significantly more than any of us ever anticipated." The sustainability of new pay schemes is "yet to be written".
Numerous US regional airlines recently hiked pilot pay rates amid an industry-wide effort to maintain flight-crew levels to keep pace with surging travel demand.
Thousands of pilots at Mesa Airlines, CommutAir, Piedmont Airlines, PSA Airlines, Envoy Air – all represented by the Air Line Pilots Association, International (ALPA) – and Horizon Air have secured new contracts with higher wages.
Pay hikes vary by airline. Mesa boosted pay 118% for first-year captains and 172% for new first officers, with wages starting at $150 hourly and $100 hourly, respectively. First officers at CommutAir now start at $72 hourly, with captains at $100.
Higher labour costs, while good for pilots, will not be without consequence. They will challenge regional airlines and impact communities those carriers serve, says Brian Bedford, CEO of Republic Airways.
"The economics will force us to reduce the size of our businesses, and consumers in small communities will be most affected, who will not have access to transportation systems, or will pay significantly more for that service," he says.
Leaders of regional airlines are meeting in Washington, DC this week to discuss industry issues, including a pilot shortage that threatens to disrupt the US airline model. US regionals typically operate shorter routes to smaller cities, feeding passengers to hubs for carriers like American AIrlines, Delta Air Lines and United Airlines.
Updates on 21 September to clarify that Horizon Air's pilots are not represented by ALPA.