Lufthansa Group carrier Swiss is to cut its fleet by 15% and its headcount by a fifth as it attempts to right-size itself to serve what it perceives will be a permanently smaller customer base.
"It has grown increasingly clear that our market is undergoing structural change, and that despite the actions which we were swift to take in response, a restructuring of our company now sadly seems unavoidable," says Swiss chief executive Dieter Vranckx.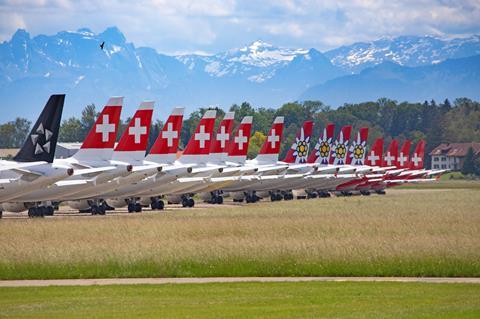 Such measures are required "in view of the continuing absence of any industry recovery", the carrier highlights, with demand expected to be around 20% lower over the "medium-term future".
The carrier's overall fleet is being downsized by 15% from its 2019 levels, with short and medium-haul aircraft numbers being reduced from 69 to 59. Its long-haul fleet will decline from 31 aircraft to 26, through the retirement of five Airbus jets.
Calling the Covid-19 crisis "the greatest challenge it has faced in its corporate history", it adds that frequencies on its short and long-haul routes are will be reduced compared to their pre-crisis schedule, while some intercontinental services will not return at all.
The carrier is also extending its staff resizing programme that will reduce its total workforce by 1,700 full-time positions, or over 20% of the carrier's total, up from previous expectations for a reduction of 1,000 full time roles by the end of the year.
This could result in the forced dismissals of up to 780 ground staff and flight crew, with the Zurich-based carrier having launched a consultation procedure on the changes.
Swiss adds that it will continue to pursue its premium position in the market, maintaining operations at its hubs in Zurich and Geneva, "and ensure that Switzerland remains connected with the world."
Its resizing and transformation plan will also entail a shift towards environmental responsibility through using sustainable aviation fuel, as well as "developing and refining intermodal transport solutions", it states.
On 29 April the carrier reported an operating loss of Swfr201 million ($221 million) in the first quarter of 2021, compared with Swfr84.1 million during the same period a year ago.
It carried around 290,000 passengers in the quarter, a decline of 90% year-on-year. Revenue passenger kilometres decreased by 90%, while capacity, as measured in available seat kilometres, was cut by 73%.