Lufthansa Group subsidiary Swiss International Air Lines has taken a financial stake in synthetic fuel producer Synhelion to help accelerate availability of sustainable aviation fuels (SAF).
The Zurich-based carrier said on 15 December that investing in the Swiss start-up is "essential to the achievement of the ambitious climate goals within the aviation sector". Swiss does not specify the amount of its investment.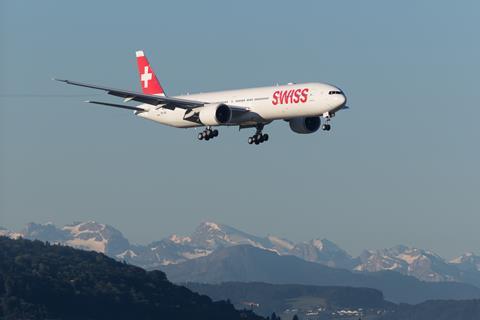 Synhelion produces solar fuels, which are "synthetic fuels produced from solar energy" that can replace fossil-based fuels, according to its website.
The synthetic fuels are "fully compatible with existing global fuel infrastructure" and can be used in aircraft, ships, trucks and cars. The fuel is produced through application of concentrated sunlight to manufacture synthetic gas, which is then industrially synthesised into kerosene, says Synhelion's website.
SAF includes several types of low-carbon fuels, including synthetic and bio-derived fuels.
"Synhelion, Swiss and the Lufthansa Group have been collaborating very constructively on bringing solar fuels to market for the aviation sector for more than two years," says Swiss chief executive Dieter Vranckx. "We are delighted that, with our new financial involvement, we can now make a further substantial contribution to helping Synhelion scale up and commercialise its innovative alternative fuel product."
Synhelion will use the funds to scale up and commercialise its technology, Swiss says. It will expand its production facilities "to industrial dimensions".
"Synhelion's technology also offers sizeable development potential, and holds many strategic advantages over other technological approaches," Swiss says. For example, the company has a heat storage facility that enables its plant to operate 24 hours a day, seven days a week, without drawing on an electricity grid.
Earlier this year, Swiss agreed to be the first airline customer of Synhelion's "sun-to-liquid" solar fuel, which will initially come from a demonstration plant under construction in Julich, Germany, in 2023. The aim is for a larger commercial operation to come on stream in Spain in 2025, and multiple plants to follow.