Lufthansa subsidiary Swiss is planning to reduce its fleet, after incurring a Swfr84.1 million ($86.1 million) operating loss in the first quarter.
That compares with an operating profit of Swfr48.3 in the same period of 2019.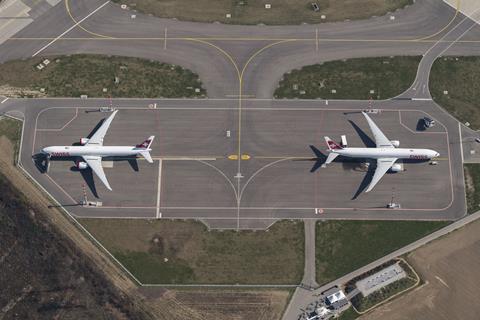 Revenue declined 20% in this year's first quarter, to Swfr923 million, while passenger numbers fell 21%.
Swiss says it will be "resizing its fleet by deferring deliveries of short- and medium-haul aircraft" and is "further considering withdrawing older aircraft earlier than planned".
Cirium fleets data shows the airline has 16 Airbus A320neos, eight A321neos and a single A220-300 on order. The A220-300 is the last from an order for 30 A220s, deliveries of which began in 2016.
Swiss has a total 90 aircraft. In addition to the A220s, the fleet includes a single A319ceo, 19 A320ceos, a single A320neo, nine A321ceos, 14 A330-300s, five A340-300s and 12 Boeing 777-300ERs.
The airline's leisure arm, Edelweiss, has an 10 A320ceos, two A330-300s and four A340-300s.
In April, Lufthansa disclosed an agreement under which Switzerland's government will back loans of Swfr1.5 billion to avert an insolvency of Swiss and Edelweiss.
Swiss's finance chief Markus Binkert states that the government loan guarantees, financial support from Lufthansa, and cost-saving measures "will enable us to bridge any liquidity gap".
He adds: "We will be doing everything in our power to repay such loans with interest with all possible speed."
Lufthansa earlier today disclosed "far-reaching" restructuring efforts across the group.
Swiss's chief executive Thomas Kluhr foresees that the gradual resumption of flights will be a "step-by-step process that will take two to three years".
Having provided a skeleton service from Zurich and Geneva from 23 March until 31 May, Swiss intends to operate 15-20% of its original schedule this month and to further grow its schedule depending on demand.
"We will be steadily expanding our services from Zurich and Geneva, with the aim of restoring the direct intercontinental connections that are so vital to Switzerland's economy, politics, society and tourism sector," Kluhr states.