Taiwan's two largest carriers remained in the black in the second-quarter earnings, despite a resurgence of infections on the island.
While China Airlines saw its operating profit slip year on year, compatriot EVA Air rebounded with a significant increase in profit.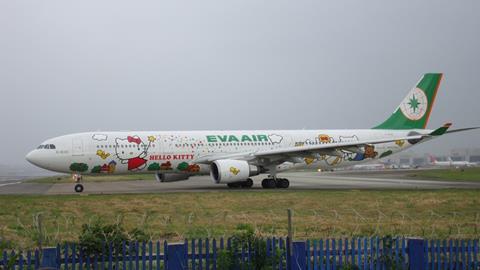 For the quarter ended 30 June, China Airlines reported a 56% decrease in its operating profit, to NT$1.2 billion ($43 million).
Revenue for the quarter rose 12% year on year to NT$29.3 billion. However, the uptick in takings was outpaced by a 19.5% increase in costs and expenses, to NT$28.2 billion.
The SkyTeam carrier reported a net loss of NT$343 million, reversing the NT$2.5 billion net profit it reported in 2020.
As for EVA Air, its second-quarter operating profit rose significantly to NT$801 million, nearly four times higher than the NT$184 million profit it made in 2020.
The Star Alliance carrier saw a 25% increase in revenue, to NT$24.2 billion, while costs and expenses rose 22.3% year on year to NT$23.4 billion.
EVA Air swung back to a modest net profit for the period, at NT$144 million, compared to a NT$614 million net loss in 2020.
Both carriers did not provide any discussions for their financial results. During the period, Taiwan witnessed a fresh wave of coronavirus infections, caused primarily by the more contagious Delta variant.
Cases peaked at end-May, with more than 500 new cases reported on 28 May, the worst spike in a long while for Taiwan, which is largely seen a success story in keeping the pandemic out of its borders.
Since then, case numbers have dwindled, and the Taiwanese government has ramped up vaccinations significantly since the May wave.