One of the few women leading a top airline says parents can do more to encourage girls into aviation-related professions, as she laments a lack of progress on gender diversity in the industry during her career.
Speaking during a FlightPlan event on 22 July, recently appointed TAP Air Portugal chief executive Christine Ourmieres-Widener says that "if the industry was doing enough" on gender diversity among its staff, "the outcome would be different".
Instead, Ourmieres-Widener is one of just six women among the chief executives of the world's top 100 airlines, according to FlightGlobal data, with similarly low female representation being seen among pilots and engineers.
At TAP, some 4% of pilots are women, the former Flybe chief says, while female engineers account for 20% of the airline's total.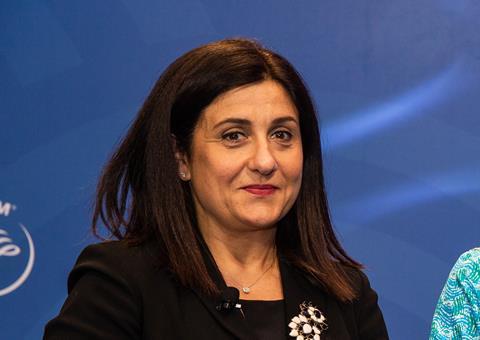 "I think there are many things, many initiatives to be done," Ourmierers-Widener states of ways to address the imbalance, while highlighting the mentoring and coaching of women that she continues undertake.
Noting that in some countries gender diversity is "not always a priority because of cultural backgrounds", in Europe she has hopes that "we will see some evolution, because we have so many smart women [already employed in the industry]…. who have the calibre and the talent to access senior positions".
Of the next generation of airline employees, Ourmieres-Widener says it is important that young children are not swayed by outdated views on gender-specific jobs. "You need to talk to parents first" to increase their awareness of the career options open to their children, she suggests.
"We have a biased behaviour when we have to manage the education of girls and boys," she explains. "In previous jobs, we've done some studies and it's true that girls were never picturing themselves being a pilot, ever."
Role models such as female pilots should visit schools to encourage girls into aviation careers, Ourmieres-Widener states.
Being a pilot is "very compatible with family life, because you are working on rotation, you can be back home, you can organise your life", she says. "Same in engineering, it's great to fix things, to design new things."
It is also important that "from an early age we don't give only dolls to girls and Lego to boys", Ourmieres-Widener adds.
Panellists speaking at a Farnborough Connect event in mid-July agreed that addressing a lack of gender diversity in aviation and aerospace workforces – as part of an effort to ensure businesses attract the best people from the widest pool of talent – was both "morally correct" and "the most obvious business imperative".