TAP Air Portugal chief executive Luis Rodrigues is hopeful of completing privatisation of the carrier within the next year as Portugal's government is expected tomorrow to back a decree covering its planned sale process.
Portugal has been working to finalise plans for re-privatising TAP – the carrier it took back majority control of during the pandemic, having previously sold a stake in the airline to the David Neeleman-led Atlantic Gateway consortium. The cabinet is set to approve the decree at a 28 September meeting.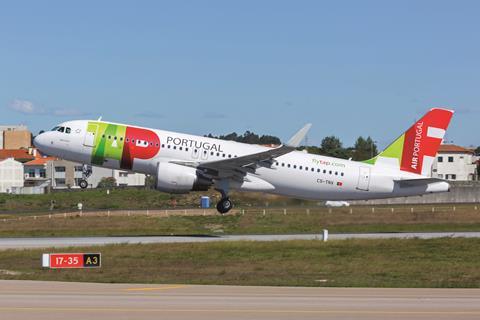 Speaking during the World Aviation Festival in Lisbon today, Rodrigues said the 28 September meeting is a "big day" because of the expected decision. "All of us who have been around political issues of some degree know that it's another step… but there is always another step. But I hope it's going to work out finally. I am a big defender of privatisation, so I hope sometime within the next year it will go [through]," he says.
TAP has enjoyed a strong upturn in its financial fortunes since the pandemic. Last year, the carrier posted its first net profit since 2017, and TAP turned a net profit of €22.9 million ($24.9 million) in the first half of this year, a marked improvement on previous losses.
"We are now looking to a second consecutive year of solid results," says Rodrigues. "Out of extremely challenging times, we set out… the idea of transforming TAP into one of the most attractive airlines in the world. Attractive to its people… attractive to its customers and attractive to its investors."
The three major European airline groups have all expressed interest in potentially acquiring a privatised TAP, though all have indicated they are awaiting details of conditions attached to the process.
That position was underlined by IAG group chief executive Luis Gallego, who also spoke during the World Aviation Festival.
"We launched IAG as a platform for consolidation," Gallego says. "We are always open to have great companies, great brands in our portfolio. We want to see the conditions of the privatisation of TAP, because I think it will be something interesting for both of us."
That echoes comments from Air France-KLM group chief executive Ben Smith, speaking during a second-quarter results call at the end of July. "Depending on the conditions, and depending what the Portuguese state puts out, we will follow it closely. We are interested and will see how it plays out," he said.
Smith highlighted how TAP's southern base would be a "complementary addition" to the group. Notably, both IAG and Lufthansa already have moves in play to bolster their southern European presences.
IAG is in the process of a fresh attempt to take control of Spanish carrier Air Europa – a move set in motion before the pandemic. Lufthansa meanwhile struck a deal earlier this year to acquire control of Italian airline ITA Airways. Both moves await clearance from European regulators.
Both Air Europa and ITA are members of SkyTeam, and being acquired would likely see them join the Oneworld and Star Alliance camps, respectively. A move by Air France-KLM for Star Alliance member TAP would help bolster SkyTeam's presence in southern Europe, helping offset the loss of its existing Spanish and Italian members.