Portugal's government has invested €462 million ($566 million) in new TAP shares, following the European Commission's approval last month of additional state support for the Portuguese flag carrier.
European regulators in late April cleared a €462 million loan from the Portuguese state to TAP, which could be converted into capital.
In a 24 May statement, TAP disclosed an increase of its share capital after the government paid €462 million in cash for 92.4 million new ordinary shares in the airline. Following the move, TAP said its share capital had increased from €41.5 million to €503.5 million, and the Portuguese state had become a direct shareholder with a 92% stake in TAP.
The remaining 8% of TAP's share capital is directly held by TAP's holding company, TAP SGPS, says the airline.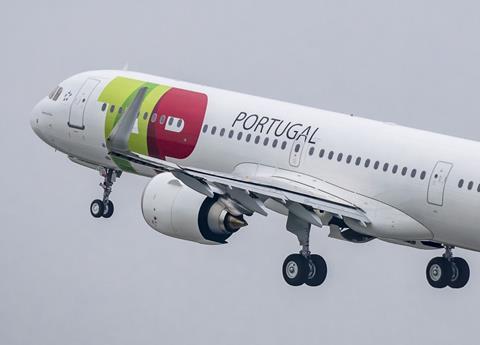 "This increase of TAP's share capital results in a strengthening of TAP's capital structure and does not materially change the control exercised over TAP to the extent that the Portuguese republic currently holds, directly or indirectly, a 72.5% stake in the share capital of TAP SGPS," states the carrier, adding that "the ultimate beneficial owner of TAP remains unchanged".
Earlier this month, the EU General Court annulled the European Commission's decision last year to allow the Portuguese government to provide a €1.2 billion loan to TAP. The court observed in its ruling that the Commission had not analysed whether TAP belonged to a group.
However, on waving through the support in June 2020 the Commission noted that TAP Air Portugal was part of the TAP Group, which it said was "ultimately controlled" by TAP SGPS.
The effects of the annulment – including any recovery of the aid – are suspended, pending new decisions by the Commission. The recent share-capital increase was funded by a separate €462 million government support package, which was approved by the Commission last month.