Thai AirAsia's dismal financial performance in the second quarter underlines the devastating impact of coronavirus for the AirAsia Group.
Thai AirAsia parent Asia Aviation saw its operating loss for the quarter ended 30 June more than double to Bt1.8 billion ($58 million), from Bt798 billion a year earlier. Revenue fell 78% to Bt2.2 billion, and the carrier's net loss widened to Bt2 billion, from Bt878 million a year earlier.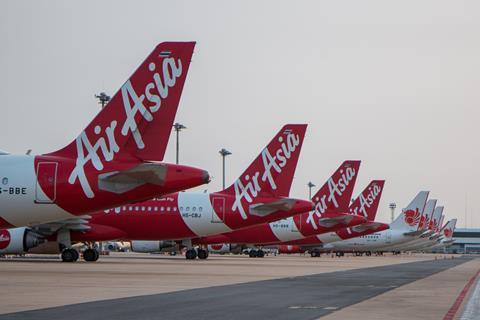 "In Q2/2020, the tourism industry has been challenged with the impact of Covid-19 pandemic and the pressured travel demand, especially on international routes, as a result of the tightened step to control the spread of the virus in various countries, including the banning on tourism activities, travel restriction, and the suspension of inbound foreign travellers," says Asia Aviation.
The airline carried just 28,000 passengers in the second quarter compared with 5.6 million a year earlier. Capacity as measured by ASKs fell 95%, and RPKs fell 42%. CASK ballooned to Bt12.6 from Bt1.57 in the second quarter of 2019.
Cash and cash equivalents stood at Bt2.7 billion at the end of June, just down from Bt2.8 billion at the end of 2019. The sale of ten aircraft for Bt13 billion helped the airline's cash position during the period.
Though the Tourism Authority of Thailand expects 2020's international tourist arrivals to drop 79% to 8.2 million, and anticipates a weak local tourism sector, the airline plans to increase domestic flights in the second half of the year.
"Additionally, Thai AirAsia expects to resume its flight operations in international routes through travelling bubble schemes with certain target customer groups, primarily Indo-China market and Chinese market as they are more effective in containing the outbreak than the other markets," it adds.
Asia Aviation's second quarter numbers coincided with the release of traffic numbers by AirAsia Group, which highlighted the severity of the pandemic for regional air travel.
AirAsia units in Malaysia, Indonesia, and the Philippines carried just 204,000 passengers in the second quarter, a 98% plunge from 12.8 million a year earlier. Cumulative load factors for the three airlines were down 26 percentage points to 59%
The airline's India unit carried 92% fewer passengers, and its Japan unit carried 98% fewer.
AirAsia notes, however, that capacity is increasing as coronavirus-related lockdowns ease across the region.
"The Group saw a pick up in key operational metrics in June as compared to May, including tripling the number of passengers carried by AirAsia Malaysia, doubling the number of passengers carried by AirAsia Thailand, and increasing 10 percentage points in load factor while reaching 6 times the number of passengers carried by AirAsia India, reflecting the strong rebound demand for air travel," it says.