The Thai government has given its approval for Thai Airways International to reorganise under the supervision of the local bankruptcy court.
"The Thai Cabinet approved the reform plan for [Thai Airways] which will be implemented through the business reorganisation chapter under the auspices of the Central Bankruptcy Court of Thailand and the Bankruptcy Act," the state-owned carrier says.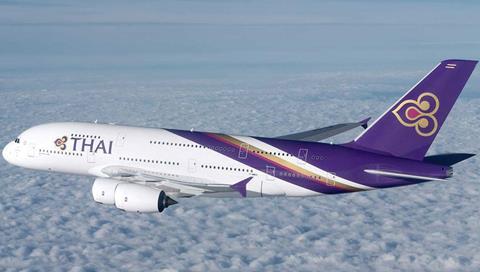 "In the meantime, Thai is able to operate flights and run its business as usual."
The carrier clarifies that it "will not be dissolved or go into liquidation or [be] declared bankrupt".
"On the contrary, the business reorganisation chapter will enable Thai to reach its reform plan's objectives even more effectively step by step as required by the law, which provides equitable protection to all relevant stakeholders while Thai will be able to conduct its normal business operations including passenger and cargo transportation."
The airline says this is an important step as it seeks to become a stronger and more sustainable entity.
Insolvency procedures in Thailand allow a company to either file for bankruptcy or avoid doing so by applying to reorganise its business.
Under that process, the court can grant the company protection against creditor claims but needs to be convinced that there will be a successful outcome to do so.