Thai Airways International has disclosed details of Bt85 billion ($2.7 billion) in creditor claims it received among others, citing these as "one of the reasons why the company has filed for the rehabilitation petition".
CIMB Thai Bank and Islamic Bank of Thailand requested in May the repayment of principal and interest due on promissory notes due the same month. These are in the principal amounts of Bt1 billion and Bt500 million, respectively.
Also in May, Thailand's finance ministry demanded the June repayment of outstanding principal of an on-lent loan, amounting to EUR335 million, or Bt12 billion, since the company is no longer a state-owned enterprise.
The carrier states that it has also defaulted on other creditor payments and has received letters demanding repayment "by other creditors who are business partners of the company".

The rest of the figure comes from all unredeemed debentures issued by the company, for which holders have demanded immediate repayment. These mature between June 2020 and November 2034, and have a collective face value of Bt71.6 billion.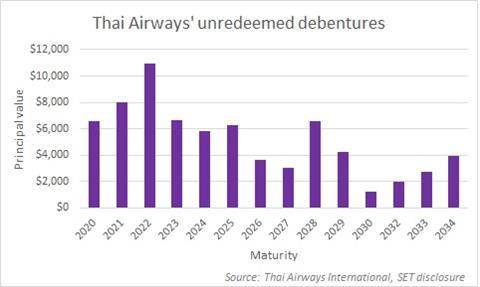 Against the company's most recent financial statement as of 31 December 2019, the Bt85 billion amount is equivalent to 33% of the its total assets and 35% of its total liabiltiies, it says in a 22 July disclosure.
"The rehabilitation plan that the creditors agree on and the court approves will be conducted by the plan administrator and the plan administrator approved by the court according to the rehabilitation plan will proceed to solve the problems, including preparing the progress report to report to the Stock Exchange of Thailand (SET) and related parties thereto."
It adds: "In this regard, the company has received notices of repayment of debts under all series of debentures issued by the company and have not yet been redeemed. The company has also notified the SET of such events. However given that the company is in the rehabilitaton process, which puts the company in an automatic stay, the company is currently unable to repay such debts."