Thai Airways expects to bounce back to the black by 2023, though the carrier warns that it might miss a crucial deadline to resolve grounds for delisting.
In a stock exchange disclosure, Thai expects a full-year profit of at least Bt10 million ($298,000) in 2023, based on financial estimates which take into account factors such as international and domestic recovery.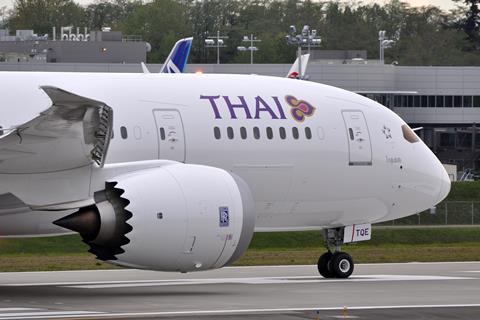 The Star Alliance carrier, which narrowed its operating losses in 2021, also targets shareholder equity to turn positive by 2024, a key criteria to prevent delisting.
However, it says that its estimates "may differ from the actual performance in future".
"Therefore, Thai might not be able to fully eliminate [grounds for] delisting because shareholders' equity might remain [negative]," says the airline, which intends to apply for a deadline extension with the Stock Exchange of Thailand to resolve its equity woes.
In the full-year to 31 December 2021, Thai posted an operating loss of Bt19.7 billion compared with an operating loss of Bt35.4 billion a year earlier. Revenues for the year fell 51% year on year to Bt23.7 billion.
Thai is currently undergoing business rehabilitation, after the country's central bankruptcy courts approved its reorganisation plan in June 2021.