Thai Airways International has been seeking information from lessors about leasing opportunities for four aircraft types, but is mostly looking for by-the-hour contracts and cannot pay security deposits and maintenance reserves, Cirium understands.
The request for information is an attempt to boost its short-term cash position amid its restructuring, according to a tender document reviewed by Cirium.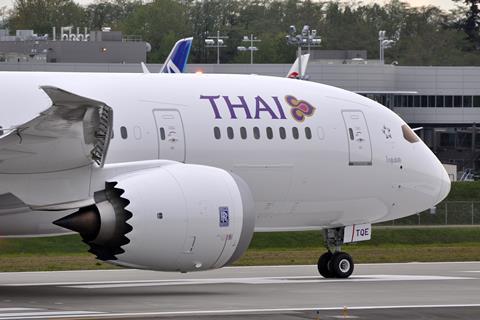 The Thai flag carrier has been discussing with some lessors about the sale-and-leaseback of six Rolls-Royce-powered Boeing 777-200ERs, and four Airbus A350-900s. In addition, it is looking to take on operating lease an unspecified number of IAE V2500-powered A320s and an unspecified number of 787-9s.
The -200ERs up for sale and leaseback are MSNs 34586, 34587, 34588, 34589, 34590 and 34591. Thai is only looking for a lease term of under three years, with a fixed rental to be paid each month.
For the A350s, Thai wants a by-the-hour rate from the lease start date until 31 December 2023 with no minimum utilisation.
In addition, Thai requires "incremental units" of 787-9s and A320s in 2022 and for "following years", but is open to taking delivery of aircraft in 2021 if they are on by-the-hour contracts with no minimum payment. It wants the by-the-hour period to run for two years from the lease start date for the 787s and for one year for the A320s.
Thai adds that it cannot pay security deposits or maintenance reserves for any of these four aircraft types.
Thai is looking for a package deal that includes terms for the leaseback of the 777-200s, as well as at least one proposal for the A350-900s, the A320s or the 787s. It added, however, that it would also be open to "alternative, more creative proposals", provided these met its commercial criteria.
The final execution of any transactions from the RFI are contingent upon Thai bankruptcy and rehabilitation laws, Thai says. On 15 June, the carrier received court approval for its restructuring plan.
The RFI seen by Cirium had a deadline in April, but Cirium understands the deadline for at least the SLB aircraft has been extended. Two lessors told Cirium in the first half of June that they were discussing these aircraft with Thai.
They noted it would be challenging to lease these aircraft to Thai given the terms the airline is asking for and the uncertainty surrounding its ongoing rehabilitation process.
Cirium has contact Thai Airways for comment.