Korean Air has cleared another milestone in its planned acquisition of compatriot Asiana Airlines, most recently with Thailand's competition watchdog.
"Thailand's Office of Trade Competition Commission recently completed its review of the business combination with Asiana, and stated that the submission of a prerequisite business combination report was not necessary," Korean Air says in a statement today.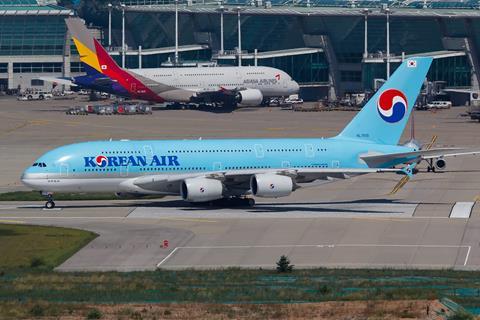 The South Korean flag carrier adds that it is awaiting business combination approval from the regulatory bodies of its home country, the USA, the European Union, China and Japan.
Korean Air states: "The airline is actively cooperating with the respective commissions and providing additional documents upon request in order to finalise the acquisition process as early as possible."
The Turkish Competition Authority was first to clear the planned merger, Korean Air disclosed in February.
In today's statement, Korean Air says the competition commission of the Philippines, where reporting is arbitrary, also gave its approval in May.
On 1 April, the Malaysian Aviation Commission sought public feedback on the proposed merger, until 1 May, after Korean Air submitted on 19 March a voluntary notification and application for the merger.