The US government's lawsuit to block JetBlue Airways' acquisition of competitor Spirit Airlines has prompted a range of strong reactions.
But Robin Hayes, chief executive of JetBlue, has downplayed the US Department of Justice's legal action against his company's potential tie-up with one of the USA's leading ultra-low-cost carriers (ULCC), maintaining that JetBlue has anticipated a court trial since the $3.8 billion deal was approved by Spirit's board of directors in July 2022.
Admitting to being "disappointed" by the DOJ's decision, he argues that fears of a discount airline monopoly are overblown. "This is not Pepsi buying Coke," he said during a 7 March television interview. "Together, we are going to be 8% to 9% of the market."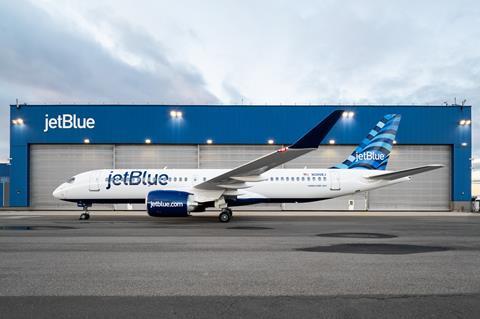 If combined, JetBlue and Spirit would become a distant fifth largest airline in the USA, behind American Airlines, Delta Air Lines, Southwest Airlines and United Airlines, Hayes adds.
"The issue in the US industry – and this is where we agree with the Department of Justice – we've got four large airlines with about 20% of the market each," he says. "That's 80%. The rest of us have 20% between us."
Others say the deal has the potential to profoundly change the highly competitive North American discount airline market. ULCCs play a critical role in the American economy by making air travel more affordable, Vanita Gupta, US associate attorney general, said in Washington DC on 7 March. She adds that the US government's complaint "rests on well-established theories of anticompetitive harm".
"We allege that the proposed merger would lead to fewer seats and higher prices for travellers," she says. "And we allege that the proposed merger would heighten the risk that remaining airlines would coordinate to raise prices."
JetBlue says the ULCC market would "continue to thrive" if it successfully purchases Spirit: "Because many Spirit aircraft will continue to fly in their current configuration during the retrofitting process after the transaction closes, there will be no short-term change in capacity."
The US Department of Transportation (DOT) said on 7 March that it would also work to prevent New York-based JetBlue from swallowing Spirit.
"The Department of Transportation typically has not gotten involved in these merger cases, but that's changing today," said US transportation secretary Pete Buttigieg during a 7 March television interview. "It is so important to make sure passengers have choices, that they have access to low fares, that they have access to competition."
Specifically, the DOT plans to deny JetBlue and Spirit a transfer application requesting that they be allowed to combine and operate international routes under one certification.
"The department will continue to separately investigate the transfer as part of its statutory public interest mandate and under its authority to enforce against unfair and deceptive practices and unfair methods of competition," the DOT says.
The agency adds that it is "aggressively strengthening consumer protections to ensure that airlines aren't competing in a race to the bottom. Recognising that access is often a barrier to new and smaller competitors, US DOT is also looking at ways to combat anticompetitive tactics and open up the nation's aviation infrastructure to ensure more players have an opportunity to compete."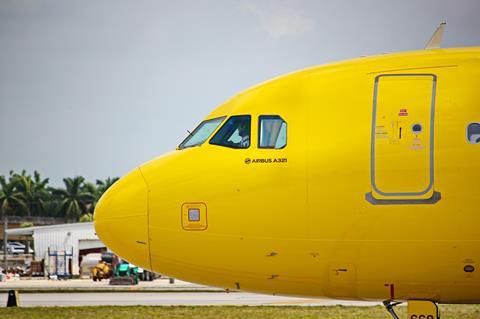 The move came shortly after the DOJ sued to block the deal, contending that it would eliminate Spirit – "the largest, fastest-growing ultra-low-cost carrier in the United States", according to the complaint – and limit the options of budget-conscious air travellers.
"Our complaint alleges that JetBlue's… acquisition of Spirit violates section 7 of the Clayton Act," US attorney general Merrick Garland said. "We allege that if allowed to proceed, this merger will limit choices and drive up ticket prices for passengers across the country. We further allege that the impact of this merger will be particularly harmful for travellers who rely on… ultra-low-cost carriers in order to fly."
"Those include working and middle-class Americans who travel for personal as opposed to business reasons, and who must pay their own way," he adds.
On 7 March, John Samuelsen, president of the Transport Workers Union of America, said the union supports the DOJ lawsuit to block the JetBlue-Spirit deal. "The hostile acquisition of Spirit by JetBlue would create a monopoly in the market, drive down competition and kill blue-collar jobs, while enriching the ultra-wealthy at the expense of working people and the flying public."
"We are pleased that the DOJ understands these concerns and agrees that a JetBlue twice as big would be twice as bad," Samuelson adds. The union also called for the DOT to use its separate authority to block the deal.
Pilot union Air Line Pilots Association, International (ALPA), which represents pilots groups at both airlines, declined to comment on the US government's recent actions to the prevent the two airlines from becoming one.