The parent of Canadian carrier Air Transat reports on 14 September making C$57.3 million ($43.5 million) during its fiscal third quarter – its first quarterly profit since late 2019.
For comparison, Transat AT lost C$106 million during the three months ending 31 July 2022, a period affected by the emergence of the Omicron variant of Covid-19.
"These impressive results demonstrate strong overall execution as well as our ability to meet sustained customer demand," chief executive Annick Guerard said during the company's quarterly earnings call. "They also reflect the strength of our brand as a carrier of choice for leisure travel."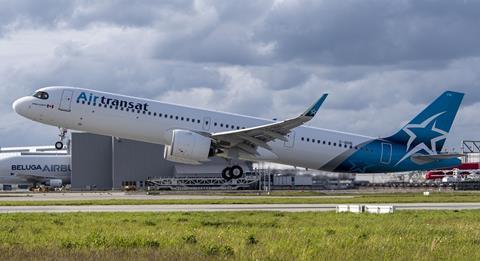 Transat benefited from strong demand for international leisure travel – especially for flights across the North Atlantic – and higher pricing during the period, as well as the full resumption of operations following the pandemic. Demand for leisure travel was "robust" throughout the period, Guerard says, and has "remained solid in the early stages" of Transat's fiscal fourth quarter.
"Looking further ahead, early bookings for the 2024 winter season suggest that consumer demand should remain healthy," she adds.
The company generated C$746 million of revenue during its fiscal third quarter, up from C$508 million last year – a nearly 47% increase.
Potential headwinds could affect the airline's performance in the months ahead, however, including "the higher price of fuel, delays in aircraft deliveries and continuing supply chain challenges" such as long turnaround times for aircraft and engine maintenance, Guerard says.
Transat recently added four aircraft to its fleet – three Airbus A321LRs and one A321ceo – and plans to operate 40 jets during the upcoming winter travel season in the Northern Hemisphere, which is five more than the carrier flew last winter.
Combined with "enhanced fleet utilisation", the additional aircraft will increase the carrier's winter capacity by 23%, Guerard says.
"This enables us to open new, promising routes, to revise or expand the seasonal character of others and to increase frequency on our best-performing sun destinations," she adds.
In August, Transat disclosed its plans to step up seasonal flying to Latin America, with a new Montreal-Lima route that will fly once weekly from 22 December to 26 April, and Toronto-Lima flights to be operated twice weekly from 20 December to 24 April.
The carrier also said last month that it is "consolidating our presence in the Mexican market – a key destination of our Caribbean winter programme" by restarting flights from Montreal to Cozumel. Those flights will be operated once weekly from 15 December to 26 April.
"Despite inflation, the Canadian airline sector continues to benefit from pent-up demand," Guerard says. "The market is still catching up, especially on international travel."
On 31 August, Transat completed the sale of its property in Puerto Morelos, Mexico, for $38 million, in a deal with luxury resort group Finest Resorts. The sale will be used to pay down the airline's debt, according to chief financial officer Patrick Bui.
"With this cash infusion and a better operating environment conducive to a stronger cash-flow generation, we are confident about our ability to further reduce our debts as we continue to diligently work on refinancing," he says.
Meanwhile, Transat maintains that it will not be immediately impacted by Pratt & Whintey's recall of PW1100G geared turbofans, which power the carrier's fleet of A321LRs. Guerard says the leisure carrier has spare GTF engines on hand that will help it mitigate operational disruptions in 2024.
As of 31 July, Transat held C$571 million in cash and cash equivalents, compared with C$411.3 million on the same date of 2022.