The parent of Canadian carrier Air Transat lost C$29.2 million ($21.9 million) during its fiscal second quarter of 2023 as demand for its "primary niche" of leisure travel remained steady.
For comparison, Montreal-based Transat AT lost C$98.3 million during the same three months ending 30 April of last year.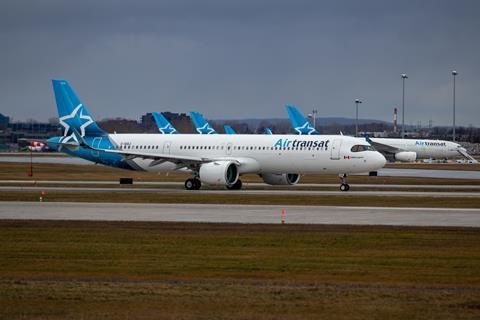 The company reported its second-quarter results on 8 June, saying it generated C$870 million in revenue during the period. That is up from $358 million in the same period last year, during which Air Transat had cancelled nearly 30% of its scheduled flights amid emergence of the Omicron variant of Covid-19.
Transat says it executed "continuous improvement in its operational efficiency throughout the quarter", adding that a "high volume of activity is driving prices up". Air Transat has already sold 60% of its anticipated capacity in the upcoming Northern Hemisphere summer travel season.
"Air Transat will deploy for the summer a capacity representing 89% of its 2019 level, with Europe comprising 80% of the activity, leveraging the most-profitable routes for Transat," says Transat chief executive Annick Guerard.
The airline's load factor for summer 2023 remains 2.6 percentage points lower than in summer 2019, but Air Transat anticipates that will be offset by strong demand and higher ticket prices.
ENGINE TROUBLES, LONG-RANGE PLANS
Like many operators of Airbus A320neo-family aircraft powered by Pratt & Whitney PW1100G engines, Air Transat has been feeling the effect of extended maintenance lead times and shortages of parts and spare engines.
"We do feel the impact with the Pratt engines," Guerard says. "We are putting in place a series of actions to protect our operation this summer and next winter, like leasing additional engines and planning for additional backups within the operation."
"We are following the situation closely, with ongoing discussions with the providers and suppliers and looking at different corrective measures," she adds. "But we are dealing with it."
Engine troubles do not appear to be seriously hindering Air Transat's operations. Cirium fleets data show the carrier has two jets in storage – one A321neo and one A330-300.
And the airline continues optimising its fleet, getting more with less during the most-recent winter travel season. "We made it through winter 2023 with 34 aircraft, compared to 55 in winter 2019," Guerard says. "With 21 fewer short-term leased aircraft… we managed to offer close to the same capacity."
The leisure specialist expects to take delivery of three additional A321LRs this summer and four more this winter, which would raise its total of the long-range single-aircraft to 19. Guerard calls this ongoing fleet renewal plan "the cornerstone of our growth".
With the A321LRs, Air Transat has focused on strengthening its position on niche routes between cities in eastern Canada and western Europe. For example, the carrier recently extended its seasonal service to the Mediterranean city of Marseille to a year-round flight from Montreal.
Paris and Lyon are other popular French vacation destinations that are now fixtures in Air Transat's transatlantic network.
The airline also recently entered the second phase of its codeshare partnership with Toronto-based regional carrier Porter Airlines, which has in recent months embarked on an ambitious expansion plan of its own across North America.
"This partnership offers the possibility of combining domestic flights from Porter with Air Transat flights via connection from Montreal Trudeau and Toronto Pearson airports," Guerard says. "This codeshare creates a natural feeder network for Transat, increasing traffic – especially on our European routes."
Still in its infancy, the partnership with Porter "has been performing better than our expectations, which is encouraging for the future", she adds.
On 30 April, Air Transat had $624 million in cash and cash equivalents, up from $511 million on the same date last year.