President Donald Trump supports imposing stock buyback restrictions on companies that receive financial aid as part of the federal government's coronavirus recovery package.
Airlines and Boeing, which have been criticised for spending billions of dollars repurchasing their own stock during recent boom years, are among US businesses seeking financial help.
"I would demand that there would be no stock buybacks," Trump says during a press conference on 20 March. "I don't want them taking hundreds of millions of dollars and buying back their own stock."
Trump's comments come the day after the US Senate released an economic package that would provide US airlines up to $58 billion in collateralised government loans and loan guarantees.
The bill would also provide $150 billion in loans to "distressed" industries – a category Senate officials say could include Boeing and other aerospace manufacturing companies.
The Senate bill does not prohibit stock buybacks, though the ultimate aid package could change as it works through both chambers of the US Congress.
"I want that money to be used for workers," Trump says. "And also for the company… To keep the company going. I don't like buybacks."
Trump notes that, following the 2017 tax law overhaul, some US companies invested tax savings back into their own stocks.
"That's not building a hangar. That's not buying aircraft… That's not the kind of things I want them to do," he says. "We didn't think we would have had to restrict it, because we thought they would have known better. But they didn't know better."
Neither airline trade group Airlines for America (A4A) or Boeing responded to requests to comment about Trump's statements.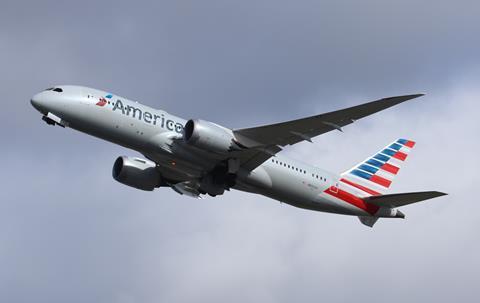 The US airline industry had requested $58 billion in aid. But it seeks half in the form of grants – which would not be repaid – and the other half in unsecured loans.
Boeing is leading a request for a minimum of $60 billion for the whole US aerospace manufacturing industry.
Those requests came under fire in the media this week, with critics faulting the companies for requesting money after spending billions on buybacks. Share buybacks give companies a place to invest cash they might not immediately need, and buybacks can push up share prices to the benefit of shareholders. Critics say buybacks unduly benefit management and investors while funneling money away from investment in the business.
Boeing spent some $43 billion buying back its stock since 2013, though it suspended buybacks in 2019, securities filings show.
Since 2013, American Airlines spend $13 billion on buybacks, Delta Air Lines spent $11 billion and United Airlines spent $9 billion. Southwest Airlines spent nearly $11 billion repurchasing its stock in the last decade, according to securities filings.
In response to recent criticism of stock buybacks, A4A says that since 2010 its airline members invested 73% of operating cash flow back into their products, including in aircraft, facilities, ground equipment and technology.
During that period airlines also paid down $91 billion in debt and invested in employees, bringing industry employment to 750,000 people, the highest level since 2000, A4A says.