A strong rise in cargo revenues helped Turkish Airlines end 2020 with a profitable final quarter at an operating level, though the Star Alliance carrier still posted a net loss of $836 million for the full-year.
While the carrier's passenger revenues slumped by two-thirds for the three months ended December 2020, to $876 million, Turkish Airlines increased its cargo revenues almost four-fifths to reach $841 million.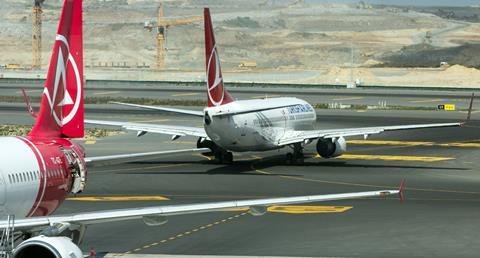 This helped the Star Alliance carrier post an operating profit of $61 million for the fourth quarter, though it slipped to a net loss of $50 million for the same period.
For the full-year, Turkish Airlines cargo revenues climbed 61%, to $2.7 billion, helping to counter a 66% fall in passenger revenues, to $3.8 billion. As a result Turkish Airlines revenues were down by just under half for 2020 at $6.7 billion.
The improved cargo performance could not prevent the carrier posting an operating loss of $530 million for the full year and a net loss of $836 million. That compares with an operating profit of $585 million and net profit of $788 million in 2019.
"Cargo operations are continuing at full capacity with freighters and more than 10 widebody passenger aircraft are being utilised for cargo operations," the airline says. "Cargo operations made a significant contribution to total revenue and profit compared to those of the previous year, thanks to increasing unit revenues and declining operational costs led by the drop in fuel prices."
Turkish Airlines passenger levels fell 62% in 2020, to 28 million, as the pandemic disrupted air services. The airline was in part helped by activity in the Turkish domestic market, which accounted for roughly half its passengers last year, up 10 percentage points over 2019.
Its joint-venture leisure carrier SunExpress turned in a full-year loss of $198 million after a deterioration in revenues of more than $1 billion, to $564 million – a contrast in performance with 2019 when the airline made a profit of $62 million.