IndiGo chief executive Ronojoy Dutta maintains that low fares and high taxes can be a fatal mix for airlines operating domestically in India.
Dutta notes that India has had some significant failures in recent years, singling out Kingfisher Airlines, which ceased operations in 2012, and Jet Airways, which collapsed in 2019.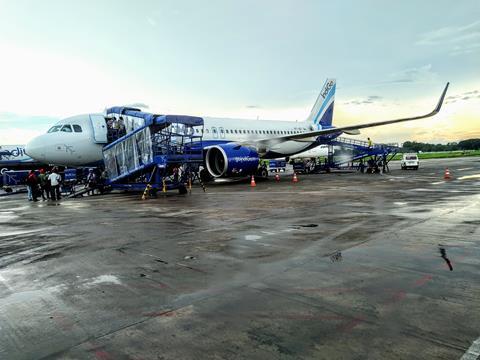 "The mortality rate for airlines in India is very high," he says. "And I think two forces that work in concert with each other are driving us there."
He made the remarks in a recent interview with FlightGlobal.
He contends that India has some of the lowest fares in the world, averaging about $60 for a one-way ticket, but India is a vast country and flights between big cities have not insignificant sector lengths. In contrast, the US market has considerably higher fares.
"If you got a $150 flight from LaGuardia to Chicago you'd feel as if you had a good deal," he says.
Low fares combine with what Dutta calls one of the world's highest tax regimes for airlines. Not including income taxes, he estimates that the average tax rate, counting up all the levies airlines pay, works out to 20%.
"That combination of very high taxes with a very weakened revenue makes it pretty hostile as an operating environment," he says.
The ATF (air turbine fuel) tax charged by states for domestic travel is a particular issue. While Dutta feels that some Indian states are quite reasonable, the bigger, more important states charge higher ATF taxes, which forces up the average.
Another challenge involves taxes on imported parts, such as auxiliary power units, engines, landing gear, and other key systems.
"[When equipment] first comes in, you pay a tax on it," he says. "If it goes out for repairs and comes back, we are taxed on it a second time, which almost sounds immoral."
He gives an example of a newly imported engine suffering bird strike damage a few weeks after arriving in India. If the engine leaves the country for repairs, it will be subject to a second round of taxes upon its return.
"I mean, what the heck is this?" he asks.
He says that Indian officials are willing to listen, although it is not clear if this will lead to meaningful change.
He also notes that the government is spending to improve rails and roadways, but in his view air connectivity is arguably more important for the country's economic growth.
"We are not asking for bailouts…the government is spending billions in roads and railways. We're saying, look, probably the most important infrastructure is actually air connectivity. And you don't have to worry about it. We'll take care of it. But at least give us a break on unfair taxation. I think we have a good story to tell. We'll see if it works out."